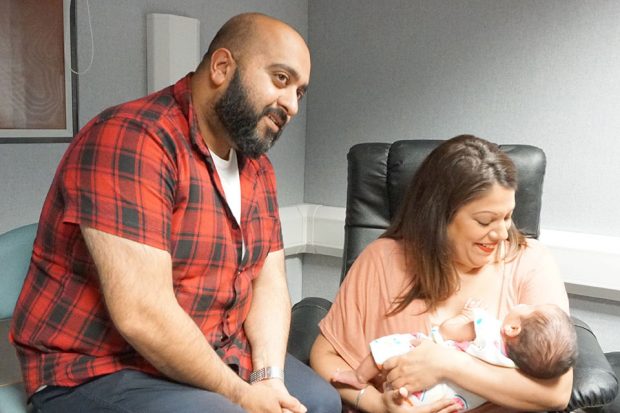 The NHS Newborn Hearing Screening Programme (NHSP) aims to identify moderate, severe and profound deafness and hearing impairment in newborn babies.
The earlier an affected baby is identified, the better the outcomes for them and their family.
About 2 to 3 babies in every 100 do not show a clear response to their newborn hearing screening test and are referred to an audiology clinic.
It is important to give parents additional information about the audiology visit and what to expect when their baby is referred from screening.
Local NHSP services currently give all parents of these babies a printed copy of our leaflet Your baby's visit to the audiology clinic. We have added some new wording to this leaflet about why early testing in audiology is essential. This is to help parents understand the importance of bringing their baby to the appointment and to encourage attendance.
In addition, we have taken the opportunity to:
Signposting parents to information online
Printed media has been on the decline for several years and most of us now access information online and communicate in a digital way.
That is why we have published the audiology leaflet in interactive HTML digital format, which is easier to search for online, works much better on mobile devices of any screen size and links easily to additional information and resources.
We are asking local NHSP providers to signpost parents to this new digital version if they feel confident accessing information online.
However, we must make sure no one is left behind in the digital age, so providers should continue to give printed copies of the leaflet to anyone who requests or needs a hard copy. Providers can continue to order printed copies of the leaflet free of charge from PHE Screening's national print supplier.
We have also taken the opportunity to update the translations of the audiology referral leaflet so they reflect the most up to date NHSP guidance.
These 12 translations are all plain PDF documents that can be downloaded from the publication page. We have selected the languages that local antenatal and screening services tell us are requested most often.
These are:
Any additional translations in any other languages would need to be produced and provided locally.
PHE Screening blogs
PHE Screening blogs provide up to date news from all NHS screening programmes. You can register to receive updates direct to your inbox, so there's no need to keep checking for new blogs. If you have any questions about this blog article, or about population screening in England, please contact the PHE screening helpdesk.