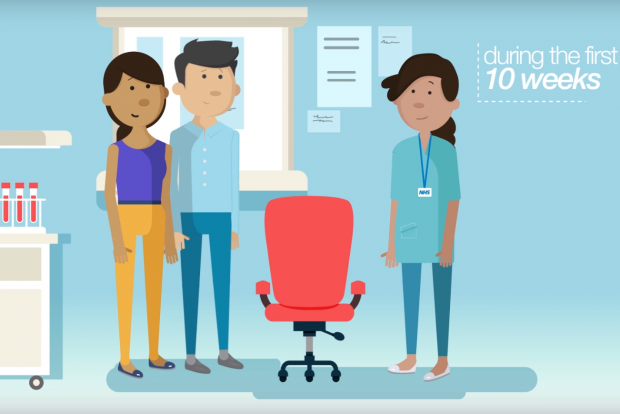 It's been 9 months since we released our animation on 'Screening tests for you and your baby' and it's been very popular.
We recently asked for your opinions on the animation through a survey.
We will act on your suggestions when we update the current animation in the near future. In addition, we will create separate animations for each antenatal and newborn (ANNB) screening programme.
The results
There were nearly 100 respondents and 69% worked for an ANNB screening provider.
Highlights of the animation survey results included:
89% felt it was 'excellent' or 'good'
93% felt it gave a good overview of ANNB screening
74% felt it was just the right length (2 minutes and 34 seconds)
72% wanted additional separate animations for each national screening programme
17% of those who worked for an ANNB screening provider used it in their local service
the highest scoring sections were sickle cell and thalassaemia screening and the newborn and infant physical examination
Improving the animation
We know you care about patient outcomes and had some thoughts on how we could make the animation better.
Many of you thought the speech was too fast and breaks between sections were not long enough. Several of you also raised the importance of highlighting that screening is always a choice. There were many requests for changes to make the animation as accessible as possible, such as translations of the subtitles.
We listened to you, and will be making changes to include:
clarifying that newborn screening tests are offered to the baby's mother, not the baby
making the blood spot samples less irregular and more clearly taken from the heel
changing the visuals for the quadruple test to show a blood sample being taken rather than an ultrasound scan
highlighting that screening is always a choice both at the beginning and end
marking the timescales of newborn tests in the corner, as is done already on the antenatal tests
providing the animation split into 'antenatal only' and 'newborn only' sections, as well as in the current format with both sections together
Some of you requested subtitles for the animation to improve accessibility. YouTube has a brilliant built-in subtitles feature which can be turned on at the bottom right of the window. These are also useful when the video is used without sound, such as in waiting rooms.
More videos, more detail
The big news is that we'll be creating a new animation for each programme. This means we can give more information about some of the programmes which were only mentioned briefly in the main animation.
A fantastic resource
We hope you'll agree that these changes will make the animations even more useful in summarising the screening tests to pregnant women and new mums.
Please continue to use the animation in your local services to reach as many people as possible. For instance, many areas are now showing it to women at booking appointments.
PHE Screening blog articles provide up to date news from all NHS screening programmes. You can register to receive updates direct to your inbox, so there's no need to keep checking for new blogs. If you have any questions about this blog article, or about population screening in England, please contact the PHE screening helpdesk.