Meet Katie. She's expecting a baby and over the course of her pregnancy she'll be offered a number of screening tests. Later she gives birth to baby Thomas and is offered further tests for him too.
Katie and Thomas are the stars of our new screening animation, which in just 2 ½ minutes explains all the types of screening offered during pregnancy and for newborn babies.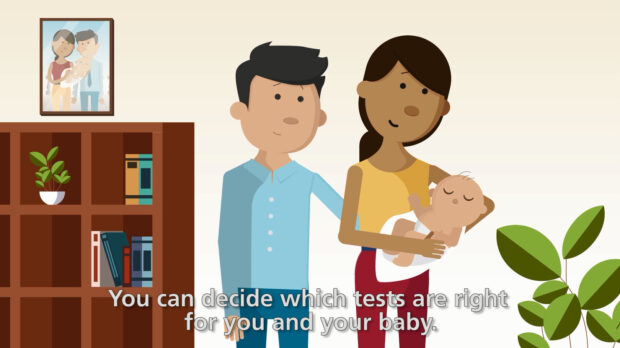 We've worked with the NHS Choices video team and an animation company to produce this resource. We held focus groups with women during the development to make sure it's easy to follow and answers the common questions people have.
The video officially launched today and we will be promoting it as widely as we can over the coming weeks.
You can view the animation below by clicking the play button on the embedded video. It is also available through YouTube and on the screening tests in pregnancy page on NHS Choices. We hope it will supplement the other information, such as the leaflet, and provide a more engaging way of explaining antenatal and newborn screening to pregnant women, new mums and their families.
If the resource is popular, we hope to develop other videos in this series, including animations to explain:
a general introduction of what screening is
the screening tests offered to females throughout their lives
the screening tests offered to males throughout their lives
We'll let you know about progress with these in due course.
For now, we'd really appreciate everyone's help in publicising this video. Please:
watch the video yourselves
share it with colleagues and your professional networks by sending them this blog or the YouTube link
like or retweet it if you spot it on Facebook or Twitter
share it with pregnant women and new mums through your trust's social media
think about how it can be embedded in local screening services and primary care
For instance, perhaps the animation could be played in antenatal clinics and GP surgeries. Please let us know by commenting below if you have good ideas.
You can also contact the screening helpdesk if you'd like a high resolution version for local use. We can also provide a version with subtitles so the video can be used even without any sound.
We hope you enjoy watching the video as much as we enjoyed developing it.
PHE Screening blogs
PHE Screening blogs provide up to date news from all NHS screening programmes. You can register to receive updates direct to your inbox, so there's no need to keep checking for new blogs.