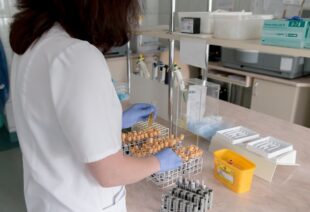 The NHS Sickle Cell and Thalassaemia (SCT) Screening Programme screens pregnant women to find out if they're at risk of having a baby with sickle cell disease or thalassaemia major and screens babies for sickle cell disease as a part of the newborn bloodspot screening programme.
The SCT programme has organised the following 2 laboratory update days:
13 April 2018, London
17 April 2018, Leeds 
These events are CPD accredited and aimed at staff who work on a regular basis within the haematology/haemoglobinopathy setting, including:
'bench level' staff
haematology laboratory managers
haematologists who are relatively new to haemoglobinopathy screening
Attendance is free for laboratory staff working in NHS hospitals in England. Laboratory staff who work in other UK countries or in a private/non-NHS hospital should contact the organisers for further details.
Please note that only 2 delegates from the same NHS trust can book to attend each update day.
Objectives
The update day has 2 primary objectives.
To update laboratory staff who work in haematology/haemoglobinopathies about current national programme guidance and recommendations.
To introduce relevant case studies in workshops where chromatograms from a range of technologies can be discussed. There will be 2 workshop groups: one for beginners unfamiliar with reading haemoglobinopathy chromatograms, the other for those who are familiar with reading haemoglobinopathy chromatograms and interpreting results.
The agenda for the day includes:
programme update
feedback from the Oxford laboratory support service
update from the screening quality assurance service
interactive case study workshops
open forum
clinical talk on thalassaemias
Register now
London laboratory update day
When: 13 April 2018, 9am to 5pm
Where: Radison Blu Edwardian Grafton, 130 Tottenham Court Road, London, W1T 5AY
Leeds laboratory update day
When: 17 April 2018, 9am to 5pm
Where: Novotel Leeds Centre, 4 Whitehall Quay, Leeds LS1 4HR
The closing date for registrations is 1 April 2018.
If you have any queries or think more than 2 delegates from your trust should be able to attend one of the update days, please email Cynthia Gill and Jessamy Willson-Pepper.
See the 'Sickle cell and thalassaemia screening: education and training' publication for more information on training and continuing professional development (CPD) for people working in the SCT screening programme in England.
PHE Screening blog
PHE Screening Blog articles provide up to date news from all NHS screening programmes. You can register to receive updates direct to your inbox, so there's no need to keep checking for new blog articles.