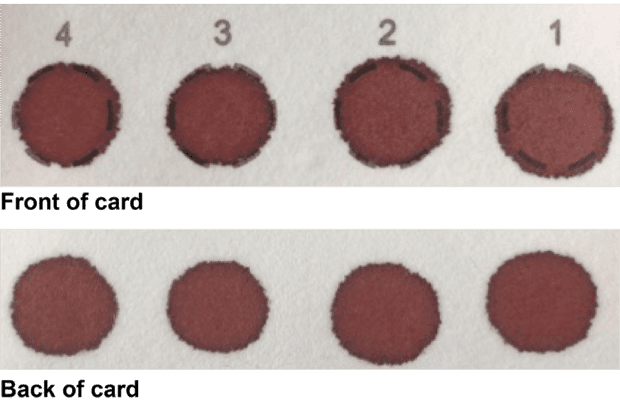 When carrying out NHS newborn blood spot (NBS) screening, good quality samples are vital to make sure babies with rare but serious conditions are identified and treated early.
A good quality blood spot sample is one that:
is taken at the right time
has all data fields completed on the blood spot card
contains enough blood to perform all tests (each circle filled and evenly saturated by a single drop of blood that soaks through to the back of the card)
is not contaminated
is on a card that has not expired
arrives in the laboratory in a timely manner
Good quality samples should be obtained first time to prevent the need for avoidable repeats. Avoidable repeat samples can cause anxiety for parents, distress to babies and delays in the screening process. They are also a waste of resources.
The NHS NBS Screening Programme monitors the number of avoidable repeats through a screening standard (NBS-S06) and key performance indicator (KPI) (NB2). Meeting the acceptable threshold (≤2% of samples requiring an avoidable repeat) remains a challenge for many maternity providers.
How we developed new resources
In January 2020, we published a document to share learning from the best performing maternity units. This was a great start, but we wanted to go further.
We knew that some local services had developed their own resources which, in some cases, had helped to reduce their avoidable repeat rates. In order to further share learning, colleagues from the Screening Quality Assurance Service took part in a working group to collate and develop these resources so we could publish them nationally.
Providers were asked to share any locally-produced documents they had found helpful. The working group reviewed and amended them so they could be shared more widely. These amended resources were then approved by a national task and finish group.
The final resources include:
a practitioner competency pack for assessors to check and sign
additional parent information and a checklist of parental questions
a printable cot-side prompt sheet
a simple printable one-side checklist for sample takers
letter templates for providing feedback to sample takers over a 3-month period
Access and download the new resources to help reduce avoidable repeat rates. They consist of:
Thank you
Thanks go to the following organisations who kindly agreed to share their resources with us:
Betsi Cadwaladr University Health Board
Bridgewater Community Healthcare NHS Foundation Trust
County Durham and Darlington NHS Foundation Trust
East Cheshire NHS Trust
Mid Cheshire Hospitals NHS Foundation Trust
NBS laboratories – Wales and England
Newborn Bloodspot Screening Wales
Norfolk and Norwich University Hospitals NHS Foundation Trust
North Cumbria Integrated Care NHS Foundation Trust
The Queen Elizabeth Hospital Kings Lynn NHS Foundation Trust
Warrington and Halton Teaching Hospitals NHS Foundation Trust
Wirral University Teaching Hospital NHS Foundation Trust