Today we've published an updated version of our easy guide to breast screening.
This information leaflet aims to help ensure breast screening is equally accessible to women who have a learning disability or who struggle with written English.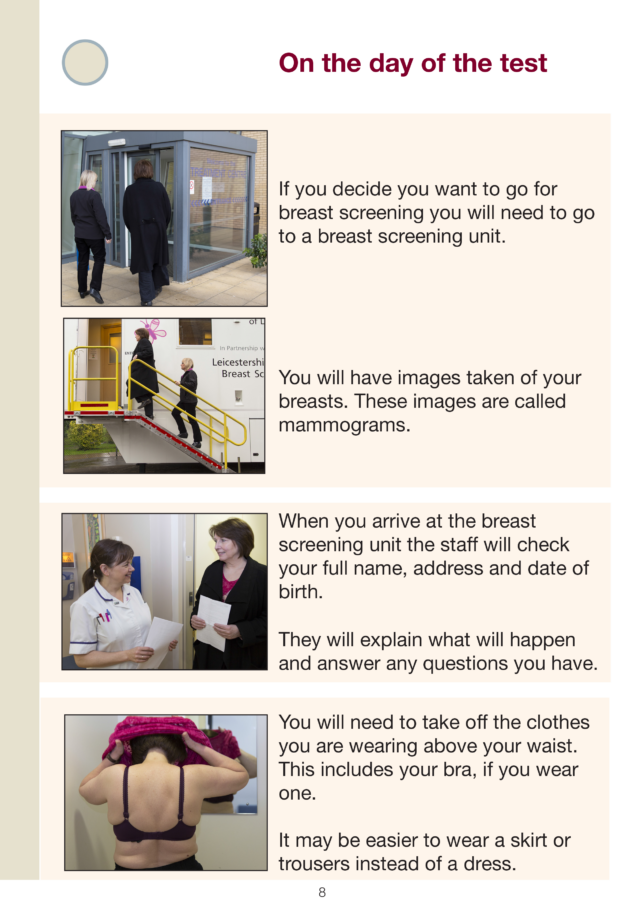 The content of the easy guide is based on the information in our standard national leaflet. We have made the content easier to read by writing in clear, simple sentences and using photos and artwork to illustrate each important message.
The easy guide to breast screening explains:
why the NHS offers breast screening
what to expect on the day of the test
the possible benefits and risks of accepting the offer of screening
Thank you to our experts
We developed the new easy guide to breast screening with the help of PHE Screening's national expert easy read group –  the same group that helped us put together easy read versions of our Screening tests for you and your baby, AAA screening invitation and bowel scope screening leaflets.
Our experts have a broad range of skills and experiences and include commissioners, screening staff, nurses and other healthcare professionals. Most importantly, we always involve service users with learning disabilities, who are also known as 'experts by experience'. We involved 6 experts by experience in the development of the new easy guide to breast screening and they all emphasised the need for the information to be clear, concise and unambiguous.
We'd also like to particularly thank Leicestershire learning disability primary care liaison nurses Sam Screaton and Amelia Boulton for their input into the new leaflet as they helped ensure we could use the excellent images that also feature in the Leicestershire, Northamptonshire and Rutland Breast Screening Group leaflet.
Our new easy guide to breast screening leaflet is now available on GOV.UK for local screening providers to download and print out as required. We hope providers and service users alike find it helpful in improving equality of access to breast screening.
PHE Screening blogs
PHE Screening blog articles provide up to date news from all NHS screening programmes. You can register to receive updates direct to your inbox, so there's no need to keep checking for new blogs.