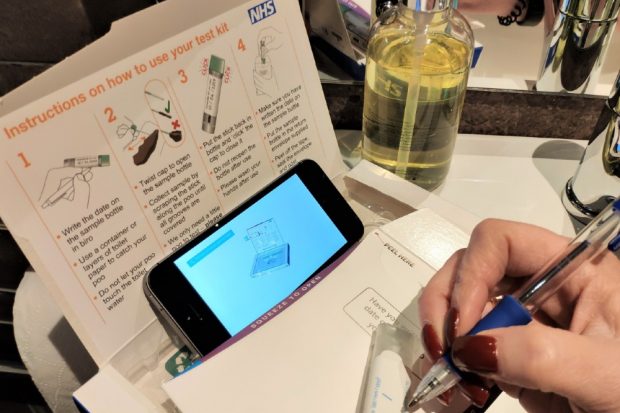 The new bowel cancer test kit, known as 'FIT' (faecal immunochemical test) has been sent out to all bowel cancer screening participants since June 2019.
This new test is quicker and easier to complete than the previous guaiac kit that required 3 separate poo samples. The FIT kit only needs one.
To support participants in understanding how to complete the new kit, the national bowel cancer screening team, alongside MAST (the FIT supplier), have made an instruction video.
Accessible for everyone
The video gives a step-by-step explanation of what participants need to do to collect the bowel sample correctly.
It covers:
what the package contains
how to remove the test kit from the box
writing the sample date on the test kit
how to collect and take the stool sample
how to send the completed test back in the post
You can see the video on the NHS.UK page about the home test.
The link will also be added to the package that bowel cancer screening participants receive through the post.
Subtitles have also been added to improve accessibility for people with a hearing impairment. These have been translated into the most common languages requested by the bowel screening programme: Bengali, Polish, Portuguese, Arabic, Farsi, Gujarati, Punjabi, Simplified Chinese, Traditional Chinese and Urdu.
The other subtitled videos are gradually being uploaded to Vimeo, but you can also find the link to them on NHS.UK.
Working together to increase uptake
A set of clear instructions was developed with the bowel cancer screening teams to provide the narration to the video.
An animation company was brought in to make changes and improvements to the original video that MAST had previously made, to tailor it to the needs of the screening programme.
The video has been developed as part of the screening team's work to help meet several objectives.
These include:
reducing inequalities
providing more detailed instructions in a format that is more accessible for people with additional learning needs
providing information for people where English is not their first language
offering more information than the instructions that come with the kit
Although the uptake of bowel screening is now higher using this new test kit, we hope that having this additional resource will make it even easier to complete.
We also hope that it will help to improve participation from any group who may have been less likely to take up the offer of bowel cancer screening in the past.
PHE Screening blog
The PHE Screening blog provides up to date news from all NHS screening programmes. You can register to receive updates direct to your inbox, so there's no need to keep checking for new blogs. If you have any questions about this blog article, or about population screening in England, please contact the PHE screening helpdesk.