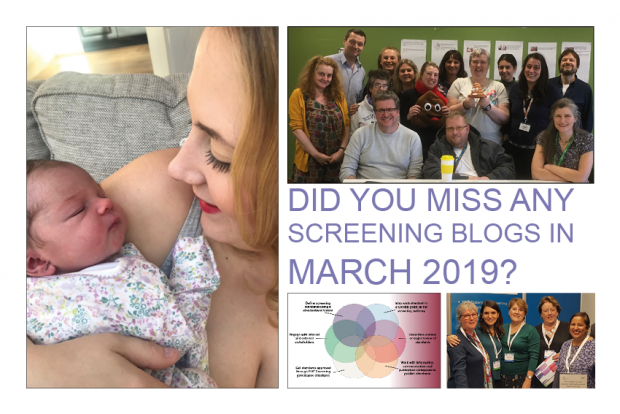 We published a whopping 24 articles on the Public Health England (PHE) Screening blog during March 2019. In case you missed any, here's a round-up of what we blogged about along with links to the full articles.
Abdominal aortic aneurysm (AAA) screening
Fascinating research presented at national AAA screening event
Find out what was discussed at the fourth national AAA screening research day event in Newcastle.
PHE support for research into how AAAs develop
Support from PHE screening is helping medical researchers from the University of Leicester identify treatments to reduce the numbers of men with life-threatening AAAs needing surgery.
Cervical screening
Update for primary care on cervical screening campaign
A reminder for primary care colleagues about PHE's cervical screening campaign and information about how to access women's screening results.
Antenatal and newborn screening
Application for funded place on genetic risk assessment and counselling course open
The NHS Sickle Cell and Thalassaemia Screening Programme is excited to offer 25 funded places on the King's College London Genetic Risk Assessment and Counselling course.
Fetal anomaly 2016 to 2017 screening data report published
We've published the 2016 to 2017 data report for the NHS Fetal Anomaly Screening Programme.
Trusts gearing up to go live with new NIPE IT system in April
Blog informing people about the new national IT system for the NHS Newborn and Infant Physical Examination Programme going live in April.
New guides for sickle cell and thalassaemia screening IT system
A new set of guides for users of the sickle cell and thalassaemia newborn outcomes IT system have been published.
Reminder about fetal anomaly screening laboratory letters
A reminder for antenatal screening laboratories to use the standard templates to let pregnant women know about low chance fetal anomaly screening results.
Updated standards published for sickle cell and thalassaemia screening
We have updated the national standards for the NHS Sickle Cell and Thalassaemia Screening Programme.
We're updating the clinical care standards for children with sickle cell disease and want your views
We are working with the Sickle Cell Society to update the Sickle Cell Disease in Childhood: Standards and guidelines for clinical care 2nd edition.
We've made changes to the family origin questionnaire (FOQ)
Details of the February 2019 changes and improvements to the sickle cell and thalassaemia screening family origin questionnaire.
Diabetic eye screening
East Anglia screening service pioneers one-stop shop for people with diabetes
Find out how people have been benefiting from the pilot of an innovative one-stop shop for all their regular checks, including diabetic eye screening.
General information
Addressing inequalities in LGBT cancer screening coverage
The first of a series of blog posts in which we're looking at inequalities in lesbian, gay, bisexual and transgender (LGBT) cancer screening coverage.
Child vision screening: no change is needed to comply with GDPR
A reminder about General Data Protection Regulation (GDPR) implications for child vision screening and clarification that schools do not need the permission of parents before they can share children's data with the providers of school health services.
Ensuring the accuracy of screening information
This article explains the benefits of local screening services using the national screening leaflets rather than producing their own information. It also describes the remit of PHE in terms of screening information produced by third parties outside of the NHS and government.
Have you responded to the screening review call for evidence?
Professor Sir Mike Richards has been asked to conduct a major review of the English cancer screening programmes as part of a renewed drive to improve care and save lives.
I'm so lucky screening found cancer early so I have the rest of my life to enjoy
Breast cancer survivor Gill Phillips describes how screening found her cancer very early so that it could be treated quickly and that she now has the rest of her life to enjoy.
Latest data from the National Congenital Anomaly and Rare Disease Registration Service
An update on the National Congenital Anomaly and Rare Disease Registration Service (NCARDRS), which was established by PHE in April 2015.
PHE, NHS England and NHS Digital have begun an ongoing collaboration to move from printed invitation leaflets to online information, starting with antenatal and newborn screening.
New approach to national screening standards
We've published the PHE Screening standards framework which gives a clear step-by-step guide about how we develop, review and publish standards.
New guidance for AI in screening
PHE is publishing new guidance in the spring which will help developers of  artificial intelligence (AI) understand how new technologies could be used for screening.
New national guidance aims to reduce inequalities for people with severe mental illness
We've published new guidance for screening providers and commissioners that aims to improve access to screening for people with severe mental illness.
North East experts by experience help develop new screening easy guides
Find out how information gathered at a recent workshop has helped with the development of new national easy guides for cervical and bowel cancer screening.
Screening year report showcases our work to reduce inequalities
Get a glimpse of what is included in the NHS Screening Programmes in England 2017 to 2018 report.
PHE Screening blogs
PHE Screening blogs provide up to date news from all NHS screening programmes. You can register to receive updates direct to your inbox, so there's no need to keep checking for new blogs. If you have any questions about this blog article, or about population screening in England, please contact the PHE screening helpdesk.