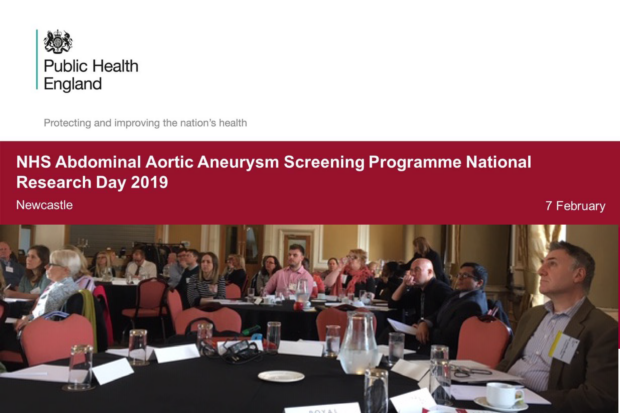 The fourth national abdominal aortic aneurysm (AAA) screening research day was held in Newcastle.
It was an excellent event, focused on AAA screening research, audit and service development. Many thanks to the delegates and speakers who gave up their time.
National programme update
National AAA screening research chair, Professor Gerry Stansby, welcomed delegates. National programme manager Lisa Summers then presented a brief programme update, highlighting notable achievements, including reaching the milestone of screening 1.5 million men.
Outgoing (and recently retired) national clinical lead Jonothan Earnshaw gave an excellent summary of the current state of AAA screening and the main areas where he thinks research is still needed.
Jonothan believes the programme will continue to evolve to provide added value to the NHS, possibly to incorporate control of vascular risk factors, making every contact count and targeted screening.
This theme was echoed by new clinical lead Akhtar Nasim in his presentation later in the morning session. Akhtar also discussed the possibility of increasing the interval between surveillance appointments from 1 year to 2 years for men found to have a small aneurysm (3.0 to 4.4cm in diameter).
New NICE guidelines
Guest speaker Professor Andrew Bradbury, from Birmingham, told us about the screening aspects of the proposed new National Institute for Health and Care Excellence (NICE) AAA guidelines.
Prof Bradbury stressed that value for money and cost-effectiveness must underpin all NHS activities including screening for AAA. Reassuringly, his view was that the new NICE guideline is aligned to the national programme in most areas. The full NICE guideline is due to be published in early summer 2019.
Do travel times affect DNA rates?
National data manager Jo Jacomelli presented some early results from her analysis of patient travel times and DNA (did not attend) rates.
Her initial finding is that travel times do not seem to have a major influence on attendance rates. Jo is going to continue this work by looking into public transport and other factors in London.
Morag Armer (Head of Quality Assurance – South) introduced us to the work she and colleagues have completed on defining a minimum set of operational checks that local AAA screening providers should undertake.
Genetic risk factors and other studies
Professor Matt Bown updated us on his work on genetic risk factors for aneurysms. He also told us about research he hopes to start to identify peripheral arterial disease in men eligible for AAA screening. Prof Bown is looking for expressions of interest from providers that would like to be involved in this research.
Professor Jonathon Michaels, from Sheffield University, outlined the role of quality of life (QoL) assessments in trying to understand the impact on men of being in the AAA screening surveillance programme.
Dr Colin Nice presented work he is doing with national imaging lead Tim Hartshorne on a new scoring system to support the quality assurance of AAA screening ultrasound images.
Other presentations covered a wide range of research and audit topics including:
shared decision making for AAA patients
the effectiveness of nurse input on cardiovascular risk factors
how to involve trainee surgeons in AAA screening research
how to reduce DNA rates by offering weekend screening
It was a very informative and enjoyable day. It provided some clear direction on the future focus of AAA screening research and how this will inform the development of the programme in the future.
View the AAA screening research day presentations from the national programme team.
PHE Screening blogs
PHE Screening blogs provide up to date news from all NHS screening programmes. You can register to receive updates direct to your inbox, so there's no need to keep checking for new blogs. If you have any questions about this blog article, or about population screening in England, please contact the PHE screening helpdesk.