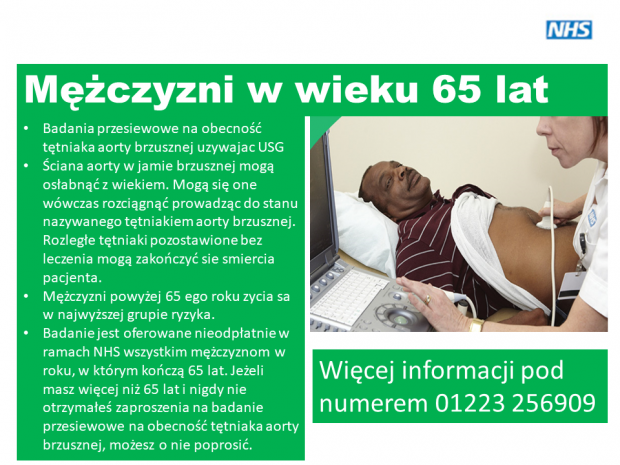 I manage the local AAA screening programme in Cambridgeshire, which is a large and varied area.
We cover the city of Peterborough where we observed high DNA (did not attend) rates and a higher proportion of non-English speakers within our screening cohort of 65-year-old men.
We operate a 'hub and spoke' model where one GP practice serves as a screening venue for eligible men registered at both that practice and several neighbouring practices in the area.
Finding suitable locations in Peterborough was a challenge. Initially we secured 3 screening sites, including one in the north of the city for monthly clinics. Attendance at this surgery was very poor in the first couple of years after roll-out and it was consistently top of our 'DNA leaderboard' despite having easy access and ample parking.
We therefore felt we needed to find alternative locations to help improve uptake. We secured another location in 2015 and reduced the frequency of clinics at the original northern site following a review of the men who did attend. We now hold quarterly clinics at the northern practice and monthly clinics at our other 3 sites in central, east and south-west Peterborough.
When we checked which men were attending the northern clinic we found that most of them were registered to the practice where the clinic was held, not the neighbouring practices.
Overcoming the language barrier
After speaking to the practice manager we found there was a high proportion of Polish and Lithuanian speaking men within the eligible population. With the practice manager's help we displayed translated information on the plasma screens there to help familiarise men with AAA screening.
We now only book men who are registered with the northern practice to the quarterly clinics there. We also book surveillance appointments at these clinics for men found to have small or medium aneurysms.
The practice team is extremely helpful in explaining AAA screening to men who are unclear about AAA screening and do not have English as their first language.
Most patients who require translation services do not inform us in advance. The northern practice helps by providing a cordless phone for screening staff so they can use Language Line to ensure patients understand AAA screening and are able to fully consent and comply with the screening pathway. We have a user code for Language Line to help speed up the process.
DNA rates have fallen across city
We have also undertaken a variety of marketing and education activities with GP practices throughout the city to address uptake and DNA rates. From data collected through clinic audits we have seen the DNA rate in the Peterborough area fall from 32% between 1 April 2013 and 31 March 2014 to 27% between 1 April 2016 and 31 March 2017. Adding the fourth venue in Peterborough has helped improve choice by offering another location that is easily accessible via road (with parking) and on a number of bus routes.
In the northern practice alone, the DNA rate has fallen from 45% to 39%. That is still one of the highest in our programme but we have seen improvements by only inviting men registered at that practice.
Patient satisfaction surveys have not been well returned in the area but there were no negative comments or complaints about the Peterborough locations from the most recent survey and some feedback stated venues were suitable and convenient.
The improvements in DNA rates in the area and the specific location do suggest that the methods we have used have helped increase uptake in an area that has a higher proportion of non-English speakers.
More work is planned with our screening and immunisation team to address uptake and access to screening for the eligible population, but our work suggests that, in certain areas, providing quarterly clinics for men at their own GP practice can help. This has certainly been the case for some of the more remote locations in Cambridgeshire, which has helped provide more accessible screening in harder to reach areas.
PHE Screening blogs
PHE Screening blogs provide up to date news from all NHS screening programmes. You can register to receive updates direct to your inbox, so there's no need to keep checking for new blogs. If you have any questions about this blog article, or about population screening in England, please contact the PHE screening helpdesk.