January 2019 was very busy for the PHE Screening blog as we published 14 articles during the month.
In case you missed any of them, here is a quick round-up of what we blogged about along with links to the full articles.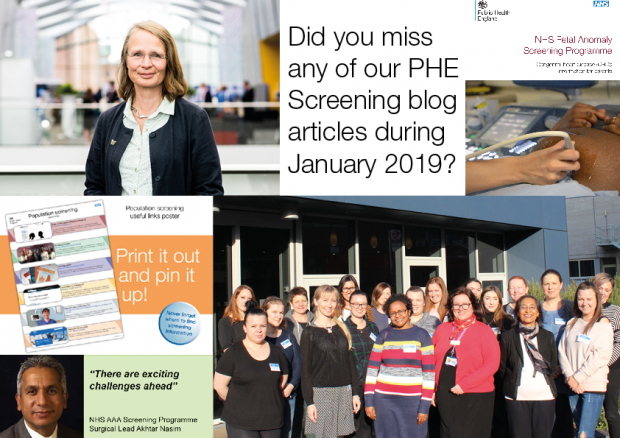 General information
Our 8th successful health screening masters module
Dr Sian Taylor-Phillips, a tutor on the ever popular health screening masters module at the University of Warwick, talks about the course and what it offers.
Print off your free PHE screening information poster
You can now print out a useful A4 poster to remind you where to go for information related to population screening in England.
Don't let good intentions undermine population screening principles
Director of Screening Professor Anne Mackie explains why it is vital that healthcare policy makers do not risk undermining or overlapping with the work of the NHS population screening programmes in England.
Screening key performance indicators: publication of the annual 2017 to 2018 data
Annual key performance indicator (KPI) data is published for the screening year 1 April 2017 to 31 March 2018.
Breast screening
New training for breast clinicians to boost screening
Dr Caroline Rubin encourages doctors to apply for a new training programme in breast disease management to help boost the screening workforce.
Support the mammography return to practice campaign
PHE Screening is supporting a national campaign to attract mammographers back into breast screening.
New guidance for clinical nurse specialists working in breast screening
The NHS Breast Screening Programme publishes new guidance for clinical nurse specialists working in breast screening.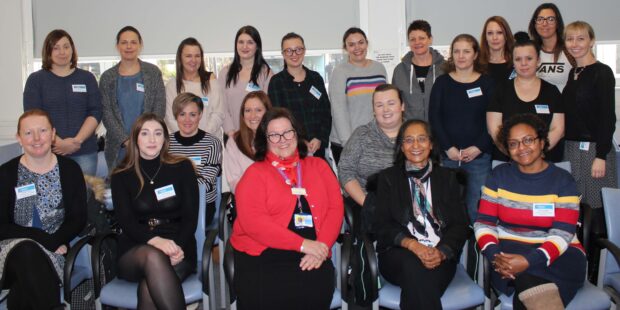 New mammography apprenticeship launches in London
A new apprenticeship gets under way in London to help address a breast screening workforce shortage.
Cervical screening
Cervical screening extranet now closed
Where to go to find information about cervical screening following the closure of the extranet site.
Cervical Cancer Prevention Week – a view from Jo's Cervical Cancer Trust
Rob Music, chief executive of Jo's Cervical Cancer Trust, urges as many people as possible to get involved in Cervical Cancer Prevention Week.
Abdominal aortic aneurysm screening
Akhtar and Tim take on exciting new national roles in AAA screening
Akhtar Nasim and Tim Hartshorne are appointed National Surgical Lead and National Imaging Lead respectively of the NHS AAA Screening Programme.
AAA screening annual data published for 2017 to 2018
Annual AAA screening data for England published for the screening year 1 April 2017 to 31 March 2018.
Screening quality assurance service
Helping health visitors to make every contact count for screening and immunisation
Reporting on successful antenatal and newbown screening education and training sessions run for health visitors in Lancashire.
Fetal anomaly screening
Updated information on congenital heart disease published for parents
We have published a new leaflet to provide information and support for parents whose baby is suspected of having congenital heart disease following a mid-pregnancy scan.
PHE Screening blogs
PHE Screening blogs provide up to date news from all NHS screening programmes. You can register to receive updates direct to your inbox, so there's no need to keep checking for new blogs. If you have any questions about this blog article, or about population screening in England, please contact the PHE screening helpdesk.