We have published new guidance for clinical nurse specialists (CNS) working in local breast screening services within the NHS Breast Screening Programme (BSP).
This replaces interim guidance and was developed by clinical nurse specialists currently working in breast screening.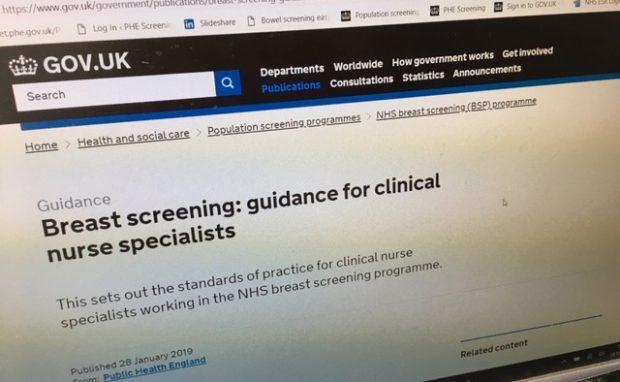 The guidance includes:
the role of the CNS in breast screening, specifically in breast screening assessment clinics
arrangements for quality assurance
a survey for assessing performance
information on the nursing extended role and advanced practitioner roles
The CNS is a registered general nurse with additional relevant post-registration qualifications and experience.
The CNS plays a significant role in the assessment process by evaluating a woman's level of anxiety at an early stage and offering appropriate support. They also make sure that women get the follow-up and personalised support they need while waiting for a diagnosis.
The National Cancer Patient Experience Survey (2014) found that the CNS can have a profound and positive impact on a woman's experience and eventual outcomes. Every woman recalled for assessment following her screening mammogram should meet with a CNS at the start of her appointment. It is at this point that her anxiety levels and information needs can be assessed.
In addition to the guidance document, the new publication also includes an assessment and referral form to be used by the CNS to record important patient information obtained at assessment. This can be amended to suit local circumstances if required.
Breast screening providers and commissioners should refer to the new guidance for standards of practice for clinical nurse specialists working in the programme.
PHE Screening blogs
PHE Screening blogs provide up to date news from all NHS screening programmes. You can register to receive updates direct to your inbox, so there's no need to keep checking for new blogs. If you have any questions about this blog article, or about population screening in England, please contact the PHE screening helpdesk.