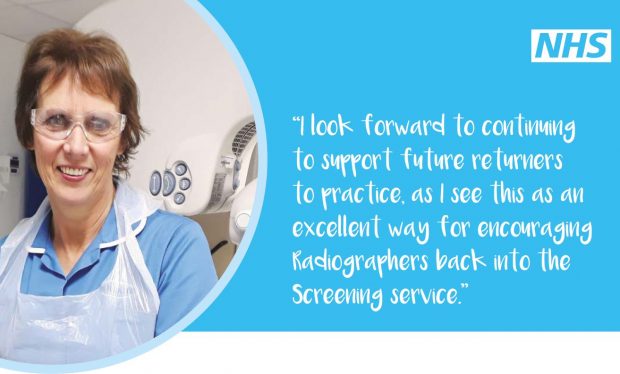 We're working as part of the Health Education England (HEE) return to practice (RtP) programme to boost the breast screening workforce by attracting mammographers back into screening.
Many radiographers are not currently working in their profession having left for a variety of reasons, including raising a family or trying a different career. But these qualified mammographers have the skills and experience to make a big difference to the breast screening service.
PHE is supporting the national HEE campaign, which runs until the end of March 2019.
How breast screening units can help
Provide clinical placements for returning mammographers
These skilled professionals do not need to re-train. All they need to do is update their skills in a clinical setting to meet the Health and Care Professions Council (HCPC) RtP registration requirements and get back into work. The Society of Radiographers website also has information on how units can support a radiographer who wants to return to work in the breast screening programme.
Run a local campaign
Breast screening centres are using available resources to run local campaigns to promote mammography return to practice.
Why not use the campaign case study to continue to raise awareness of the RtP campaign over the next few months? The case study about Philippa Martin is great because she's such a good example of someone who has returned to practice.  It can be printed or used digitally as part of your local campaign.
Another option is to run a social media campaign using the materials #iamreadytoreturn provided by HEE.
Apply for funding
Any breast screening centre providing a clinical placement can claim a one off £500 placement fee for each returnee they support. Further details are available through from HEE.
Benefits are huge
There are huge benefits to encouraging trained mammographers to RtP. It is a quick way to fill posts, use less agency workers and raise the profile of your organisation as an employer of choice.
Further information is available on the HEE website for both returners and organisations offering a clinical placement.
PHE Screening blogs
PHE Screening blogs provide up to date news from all NHS screening programmes. You can register to receive updates direct to your inbox, so there's no need to keep checking for new blogs. If you have any questions about this blog article, or about population screening in England, please contact the PHE screening helpdesk.