PHE's screening and immunisation teams ran successful continuing professional development (CPD) sessions on antenatal and newborn screening for health visitors in Lancashire.
The North West Screening Quality Assurance Service (SQAS) and Lancashire and Cumbria Screening and Immunisations Team (SIT) ran the events, focusing on giving health visitors up to date information on the screening and immunisation pathways.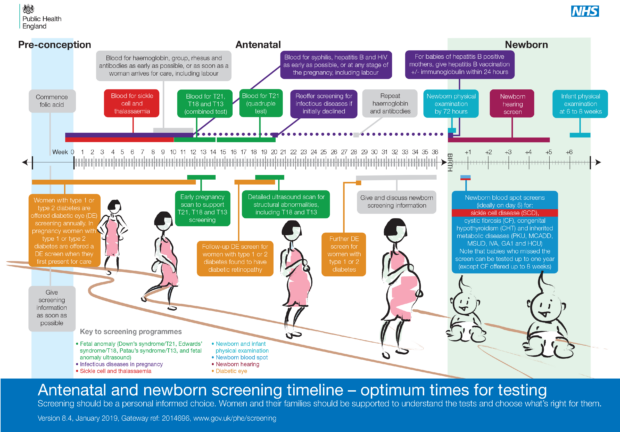 Health visitors are particularly important stakeholders because they:
are specialist practitioners with public health degrees
provide a universal service to all babies from birth
can provide a safety net to make sure screening and immunisation pathways are followed correctly and completed
We (Michele Seddon and Angie McAlpine) ran the sessions together. We both have extensive and varied experience (as a health visitor and school nurse), so we recognise the value of making every contact count and making full use of the contribution of health visitors.
The events covered:
national quality improvement plans for the hepatitis B antenatal screening and selective neonatal immunisation pathways
local delivery of the BCG (Bacillus Calmette–Guérin) vaccination programme
general updates on all screening and immunisations
Feedback was very positive, with 95% of health visitor delegates reporting that the event will help them do their job more effectively.
The 3 most highly evaluated aspects of the sessions were:
screening knowledge
immunisation knowledge
communication between Lancashire Care, NHS England and PHE
Positive comments on the learning included:
Haven't had an update in several years so really benefited from this
Really important, should be mandatory
Really useful session – need this yearly!
Plans are already in place to organise more of these events across the North West.
For more information, please email Michele Seddon or Angela McAlpine.
PHE Screening blogs
PHE Screening blogs provide up to date news from all NHS screening programmes. You can register to receive updates direct to your inbox, so there's no need to keep checking for new blogs. If you have any questions about this blog article, or about population screening in England, please contact the PHE screening helpdesk.