World AIDS Day tomorrow (1 December) is an opportunity to reflect on how far we have come in managing pregnancies in women living with HIV.
The antenatal HIV screening programme, part of the NHS Infectious Diseases in Pregnancy Screening (IDPS) Programme, has played a central role in:
minimising the risk of vertical transmission (from mother to baby) of HIV
improving health outcomes for mothers and babies
The National Study of HIV in Pregnancy and Childhood (NSHPC) is pleased to report that the HIV vertical transmission rate among diagnosed women receiving antenatal care in the UK and Ireland stayed below 0.3% between 1 April 2015 and 31 March 2016.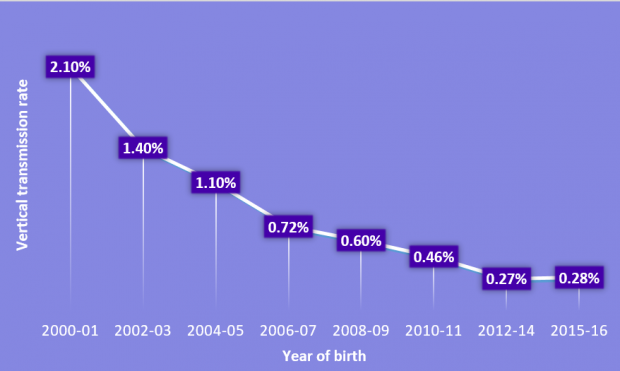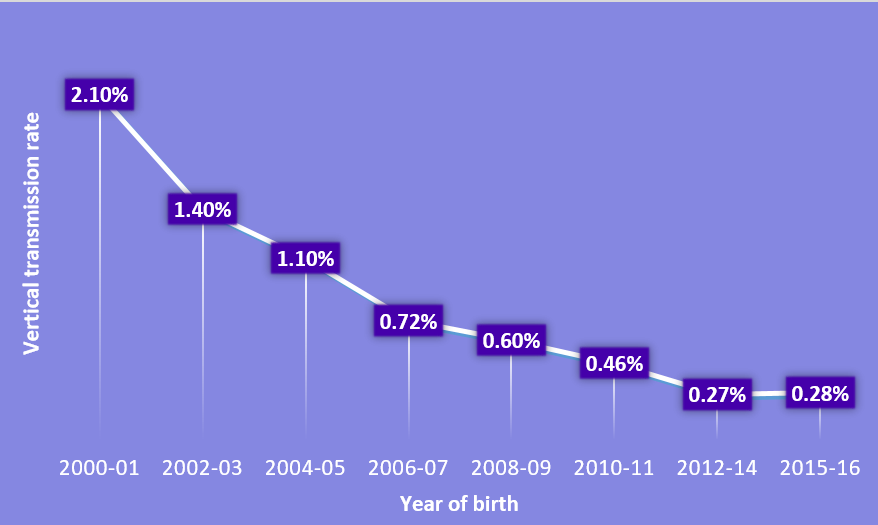 Around 1,200 women living with HIV become pregnant each year in the UK and Ireland. Between 1 April 2015 and 31 March 2016 there were just 4 confirmed vertical transmissions among 1,430 infants.
The NSHPC continues to provide valuable insights into this small number of transmissions. We have improved data collection to better understand these cases and whether anything could have been done better to prevent them.
Extremely high uptake of antenatal HIV screening in pregnancy and increased coverage of HIV testing outside pregnancy have helped improve timely diagnosis and treatment. Now, for women living with HIV:
over 99% of births are to women on antiretroviral therapy (ART)
70% of births are to women who were taking ART at conception
88% were aware of their diagnosis before becoming pregnant
93% have undetectable virus when they deliver
We continue to work towards normalising maternity experiences for women living with HIV and the NSHPC's national surveillance of pregnancies and paediatric follow-up provides a comprehensive overview of trends and developments in this population.
New screening outcomes service
The NHS IDPS Programme recently awarded the NSHPC team the tender to establish the IDPS integrated screening outcomes surveillance service (ISOSS).
This will build on the NSHPC processes and our previous studies on syphilis (the SASS study) and the PHE Hepatitis B in Pregnancy Audit so that we have a new service that will monitor maternal and paediatric HIV, hepatitis B and syphilis screening outcomes in pregnant women and their babies.
The ISOSS team is looking forward to developing this service and expects to launch congenital syphilis surveillance in 2019. The hugely successful online reporting system created by the NSHPC for HIV surveillance will be expanded to include hepatitis B and syphilis and we expect it to yield similarly high response rates and high quality of reporting.
PHE Screening blogs
PHE Screening blogs provide up to date news from all NHS screening programmes. You can register to receive updates direct to your inbox, so there's no need to keep checking for new blogs.