The NHS Cervical Screening Programme has made a significant impact on cervical cancer mortality since it was established in 1988, saving an estimated 5,000 lives a year.
However, coverage is at a 20-year low. Figures published by NHS Digital show that, at 31 March 2018, the percentage of eligible women (aged 25 to 64) screened adequately was 71.4%.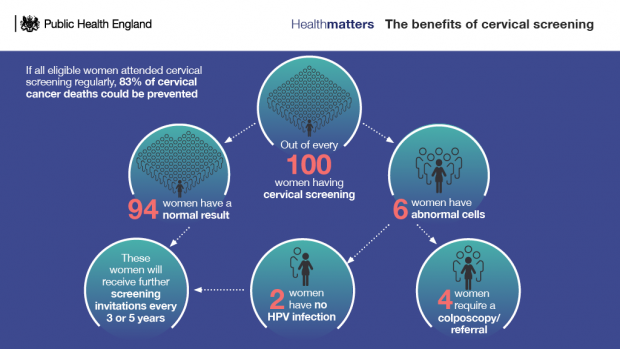 To help address this issue, in March 2019 PHE will launch its first national multimedia cervical screening campaign.
The campaign will:
highlight the risks of cervical cancer
highlight the preventative benefits of the often misunderstood screening test
encourage women of all ages to respond to their screening invitation
encourage women to consider booking an appointment if they have missed previous invitations
aim to tackle issues of fear and embarrassment
It is likely there will be significant media interest in cervical cancer in the early part of 2019 due to cervical cancer prevention week (21 to 27 January) and the 10th anniversary of the death of TV reality star Jade Goody, who sadly died on 22 March 2009.
The PHE campaign will support this interest. Deciding whether to be screened is always a personal choice and this campaign will aim to help more women understand and be less fearful of taking up the offer and improve cervical screening acceptance across England. Ultimately we hope this will help stop more women getting cancer unnecessarily.
Research highlights barriers to screening
Early this year, we started to explore the possibility of a national campaign focused on cervical screening.
To take this forward, the PHE screening team has been working with our counterparts in NHS England and the PHE Marketing team that leads on the Be Clear on Cancer programme of work.
In collaboration with academics and charities, PHE Marketing has been reviewing coverage data to determine which women to prioritise and how to best tackle the issue.
In addition, PHE Marketing has conducted research with women least likely to take up the offer to understand their point of view and what they would need.
The campaign will address a number of barriers to screening highlighted by this research.
These barriers include:
lack of knowledge about cervical cancer and the purpose of cervical screening
embarrassment about the test
fear of pain
fear that the test will result in a diagnosis of cancer
Research also tells us that women feel empowered after getting screened and feel the need to protect and empower other women.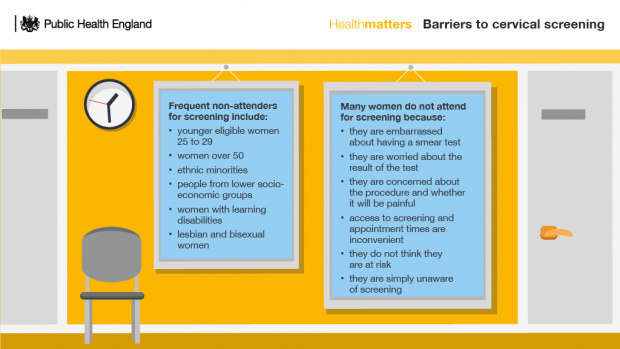 Important changes
We have made sure the information in the campaign is up to date. Cervical screening is evolving and there are many important changes, including:
Hopefully all these developments will combine to mean that one day we will be able to say that it is possible that nobody should die from cervical cancer.
We do not know for certain what response the campaign will generate but this will be an excellent opportunity to improve women's understanding of the test and see more of them choosing to take up the offer.
Professor Anne Mackie, PHE Director of Screening said:
The Be Clear on Cancer campaign will play a vital role in raising the awareness of cervical screening, as it's a real concern that fewer women, particularly younger women, are taking screening up.

We know that for some women worries about embarrassment or discomfort can put them off taking the test. We hope the campaign will make it clearer to them what the test involves so they can decide if it's right for them.
We will share more information about the campaign as and when it's available. In the meantime, please inform colleagues of the exciting news that the first England-wide cervical screening campaign will start in March 2019.
We look forward to your support.
PHE Screening blogs
PHE Screening blogs provide up to date news from all NHS screening programmes. You can register to receive updates direct to your inbox, so there's no need to keep checking for new blogs.