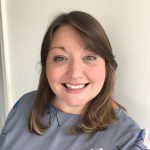 Emma O'Sullivan
Emma is working in the young person and adults screening programmes team as National Breast Screening Programme Service Development Lead on a 12-month secondment. She previously worked in the West Midlands Screening QA Service (SQAS) as a Senior QA Advisor.
We've published new national guidance and information to help local breast screening providers support women with learning disabilities.
PHE Screening is delighted to welcome three new members of staff.
The NHS Breast Screening Programme has published new guidance on recording vacuum-assisted excisions, aimed at screening office staff, pathologists and healthcare staff who carry out the procedures.