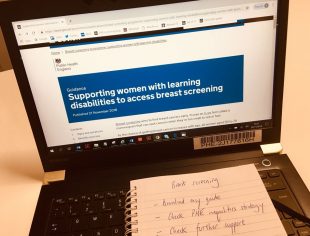 Earlier this year, PHE Screening's inequalities strategy was launched to highlight our commitment to reduce inequalities in access to screening services.
Today, we are pleased to announce the publication of new national guidance and information to help local breast screening providers support women with learning disabilities. This is the first part of a toolkit of resources that will help services to tackle inequalities locally.
Breast screening reduces the number of deaths from breast cancer by finding signs of disease at an early stage. National uptake of breast screening (the number of women who attend their appointment) is around 70%. However, evidence has shown that uptake is lower in women with learning disabilities compared to the rest of the population.
Informed choice and reasonable adjustments
Primary care play a crucial role in addressing screening inequalities, by identifying women who require additional support so that breast screening services can put that support in place.
Women with learning disabilities can face many barriers to accessing screening, including lack of understanding which prevents them making an informed choice about whether or not to accept their invitation.
As part of the new national guidance, we have now published an easy read invitation/appointment letter that can be printed out and sent to women with learning disabilities along with a copy of the easy guide to breast screening leaflet.
The guidance has lots of practical suggestions for how primary care and local breast screening services can help make the screening process as easy as possible for women with learning disabilities who decide to attend. These include:
allowing extra time for appointments to make sure communication is as clear as it can be
using simple language, avoiding long words and long sentences
offer a 'pre-visit' – many units can do this, and they can be very reassuring
showing women the mammography machine and explain any noise and movement it makes
consider ways to help the woman feel relaxed, such as allowing her to play music during the mammogram
There is also information about reasonable adjustments, making a best interest decision, links to relevant legislation such as the Accessible Information Standard and Equality Act, and links to lots of other useful resources.
Future developments
This is only the first stage of the breast screening inequalities toolkit. Watch this space for more resources over the coming months.
We already have similar guidance for cervical screening and abdominal aortic aneurysm screening providers. We also plan to develop national guidance for antenatal and newborn screening providers, bowel cancer screening providers and diabetic eye screening providers, along with easy read invitation/appointment letter templates for all the young person and adult screening programmes.
PHE Screening blogs
PHE Screening blog articles provide up to date news from all NHS screening programmes. You can register to receive updates direct to your inbox, so there's no need to keep checking for new blogs.