The fetal anomaly screening programme mid-pregnancy scan (also called the 20 week scan) is offered to eligible pregnant women and carried out between 18 and 21 weeks of pregnancy.
The 20 week scan screens for 11 different conditions that:
benefit from treatment before or after birth
need treatment in a specialist setting after birth to optimise health outcomes, or
mean the baby may die shortly after birth
We have been working with stakeholders to update our parent information leaflets about these 11 conditions. We have incorporated the latest evidence and followed plain English principles to make sure they are clear, concise and user friendly.
Congenital heart disease
Today, we have published the updated information leaflet for parents about congenital heart disease (CHD).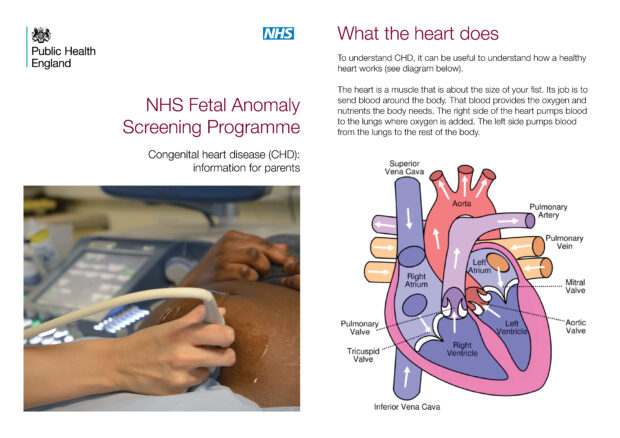 Thousands of babies every year are born in England with a heart condition.
Our updated leaflet recognises that it is a worrying time for parents when they find out there may be a problem with their baby's heart. They may want to find out as much as possible about what this means for their baby.
Heart conditions vary in seriousness and need to be looked at individually. Some babies with CHD will need surgery, others will not.
There are 3 main types of CHD. They are conditions which affect the:
structure of the baby's heart
function of the heart
rhythm of the heart beat
Less serious conditions can include narrowed valves or a hole in the baby's heart that allows blood to flow the wrong way and mix. In more serious cases, known as 'critical CHD', parts of the baby's heart can be missing or not formed very well.
CHD happens in about 8 of every 1,000 births and up to a quarter of babies with CHD have critical CHD. These babies usually need surgery before their first birthday.
If CHD is found or suspected during the 20 week scan, the woman will be referred to a specialist team, which includes a fetal cardiologist (heart specialist), who will do their best to:
provide more accurate information about the baby's CHD
answer any questions that the parents may have
help parents plan the next steps in their baby's care
Developing the new leaflet
It is really important to get things right, so we started the development of the new CHD leaflet by reviewing the literature and published evidence on the condition. Once armed with this evidence, we worked closely with:
fetal medicine
fetal cardiology
neonatal care
charities and support groups
the 'parent voice and perspective'
We would particularly like to thank Tiny Tickers, a charity that supports parents and provides specialised training, education and information for professionals. Tiny Tickers kindly let us use one of their illustrations and some of their information in the leaflet.
The new resource can be downloaded and printed off from GOV.UK. It is designed to support, but not replace, discussions that women and their partners have with health professionals.
It also signposts parents to relevant support groups and information on NHS.UK.
Please keep an eye on the blog for news of updated parent information leaflets on the other 10 conditions we screen for at the 20 week scan.
PHE Screening blogs
PHE Screening blogs provide up to date news from all NHS screening programmes. You can register to receive updates direct to your inbox, so there's no need to keep checking for new blogs. If you have any questions about this blog article, or about population screening in England, please contact the PHE screening helpdesk.