Talking to someone the other day from a local screening provider who wasn't aware of how to order screening leaflets and hadn't heard of the blog or the helpdesk, I wondered how many other people haven't come across these resources and services.
Even for those of you who have, it can be hard to remember exactly where to go for all the information related to population screening in England.
So in an attempt to be helpful we've created a simple one-side A4 poster you can print out and stick above your computer or on the office notice board. It includes just 6 weblinks you need to know. Between them they'll keep you fully informed and in touch!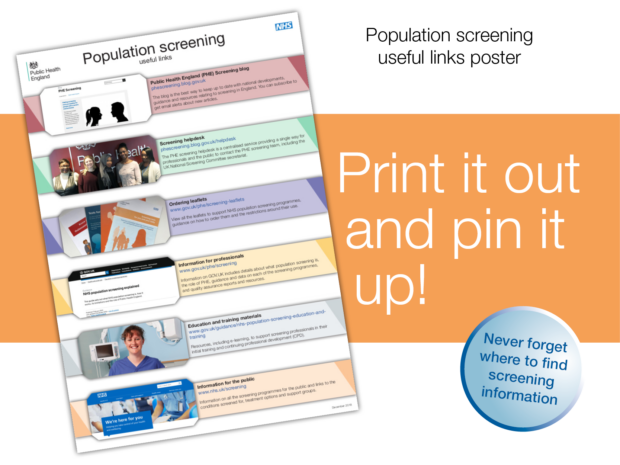 The links cover:
the screening blog (as you're reading this now, it's unlikely you haven't heard of it but you may have colleagues who haven't)
the helpdesk, run by the incredibly helpful and friendly Andrianna, Linda, Marcia and Katy
how to order screening leaflets
where to find information for professionals
accessing education and training resources
where to find information for the public
Let us know if there are any other links we could usefully add next time we update the poster.
PHE Screening blogs
PHE Screening blogs provide up to date news from all NHS screening programmes. You can register to receive updates direct to your inbox, so there's no need to keep checking for new blogs. If you have any questions about this blog article, or about population screening in England, please contact the PHE screening helpdesk.