We wrote recently about how we need to save money on our leaflets based on a government requirement to spend less on printed information.
We know the tighter rules will take some getting used to and we're really grateful to everyone for your understanding and flexibility. A few of you have told us you're not happy that we can no longer provide free leaflets for promotional purposes.
We wish we had unlimited resources to provide as many leaflets as people want. However, the spending restrictions mean we need to think collectively of other creative ways to get screening messages across to people.
Before we look at some alternatives to leaflets, it's important to say there are still ways to use our screening leaflets even if you cannot get them for free.
Printing leaflets yourself
For small quantities, you can easily print leaflets yourself. You can find and download all our leaflets in one place on GOV.UK.
For our A5 leaflets, to print the pages in the correct order you need to:
download and save the leaflet from GOV.UK
open the PDF in Adobe Acrobat
go to print
select the 'booklet' option
Ordering leaflets 
The PHE Screening approved print partner, APS Group, would welcome the opportunity to provide pricing for your required printed product. Any arrangements made would be solely between yourselves and APS Group and not involve PHE directly. To request support from the APS team, please contact Louise Trayers – account manager.
Email louise.trayers@theapsgroup.com or phone 0161 495 6189.
Leaflets not always best
We designed our screening invitation leaflets to meet a specific need – to enable people to understand the screening test (including the benefits and harms) at the point of offer so they can make an informed choice about whether to accept.
For general promotional activities the need is different. Rather than helping someone to make a choice, you're telling them about screening they might be offered at some point in the future. This could increase their knowledge of screening and the conditions being screened for and help them make a more informed decision about screening when they're invited.
So our screening leaflets won't be the best tool for raising general awareness of screening. Alternative approaches may work better.
Making use of NHS.UK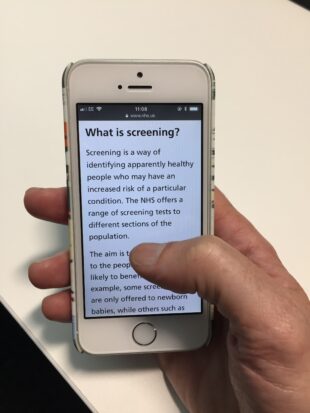 For people wanting information electronically, NHS.UK (the new name for NHS Choices) is the best place to signpost them to. There's a general screening page which links to all the different programmes.
NHS.UK contains the same information as the screening leaflets but in a more screen-friendly format.
Sometimes it also provides additional information for people looking for more detail.
While it's often tricky to view PDF files on screens, especially smaller phone and tablet screens, NHS.UK webpages adapt to whatever screen size is used.
The NHS.UK pages also include some videos. For instance, the screening tests in pregnancy page has the new antenatal and newborn screening animation.
Other leaflet alternatives
There are often local or national charities that produce their own online information you can signpost people to. For example:
We also regularly produce new resources and we're hoping to bring out new animations before too long. Signing up to this blog is the best way to hear about them.
There are lots of hints and tips about community outreach from the NHS Sickle Cell and Thalassaemia Screening Programme which may be useful. The cervical screening programme also has some information giving ideas for improving access and awareness.
It's also worth talking to your local communication or marketing teams to see what they suggest.
Let us know what works
As ever, if you come up with good ideas please do share them with us via the screening helpdesk. We can then make them available to other services. This could include:
videos
animations
Powerpoint presentations
poster designs
hints and tips to engage your screening populations
We're always looking for guest blog authors, too, so if found effective ways to engage with people to tell them about screening please let us know!
PHE Screening blogs
PHE Screening blogs provide up to date news from all NHS screening programmes. You can register to receive updates direct to your inbox, so there's no need to keep checking for new blogs.