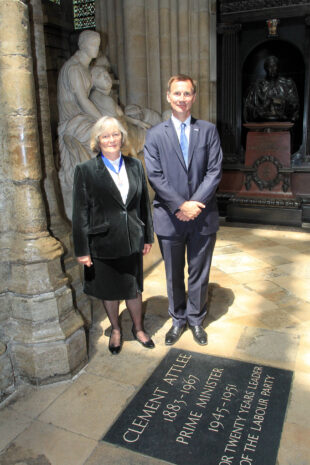 My name is Belinda Johnston and I had the privilege and honour of attending a service to celebrate the 70th anniversary of the NHS at Westminster Abbey.
This had a special resonance for me as my grandfather, Clement Attlee, was instrumental as prime minister in getting the health service set up.
I was attending the service since in my spare time I am an honorary steward at the abbey, in London.
However, my day job is programme manager for the West London Bowel Cancer Screening Centre which is hosted by Imperial College Healthcare Trust and is run from Charing Cross Hospital.
I grew up with a respect for the NHS and am very happy to be working in it.
Importance of screening
I am a strong supporter of screening, not just because it is my job but because I believe that prevention is better than cure.
I can strongly advocate the service as a user as well.
When I had my colonoscopy recently following an abnormal bowel cancer screening test I joked with the consultant carrying out the procedure that there would be nothing wrong.
This was not the case, and a small TVA was removed with some difficulty due to its awkward position.
A TVA, or tubulovillous adenoma, is a growth (polyp) that develops in the colon. They are more likely to become cancerous than other types of polyp.
So as well as being my career, screening has potentially saved my life.
Grandpa would be amazed at the progress made by the NHS.
He'd also be extremely proud that we now have some of the best screening programmes in the world.
You can read more about his legacy in a recent article in the Guardian.
Increasing coverage
Many screening centres, including West London, are not able to reach the target of 52% of people taking up bowel cancer screening.
We need more people to take the test to achieve the 16% reduction in mortality from bowel cancer which is the aim of this part of the programme.
Encourage your friends and patients not to ignore the offer but to consider it carefully.
I can assure them that the process is OK and has the potential to save lives.
We need to remember that screening is aimed at people with no symptoms and picks up cancers earlier, which leads to improved outcomes.
PHE Screening blogs
PHE Screening blogs provide up to date news from all NHS screening programmes. You can register to receive updates direct to your inbox, so there's no need to keep checking for new blogs.