The NHS Fetal Anomaly Screening Programme has been running a series of training events to help healthcare professionals support women in making personalised informed choices about screening for Down's syndrome, Edwards' syndrome and Patau's syndrome.
This has been to support the introduction of the additional option of non-invasive prenatal testing (NIPT) to the fetal anomaly screening pathway.
Thank you to all our NIPT champions who have been organising and delivering these NIPT cascade training sessions. We really appreciate your hard work.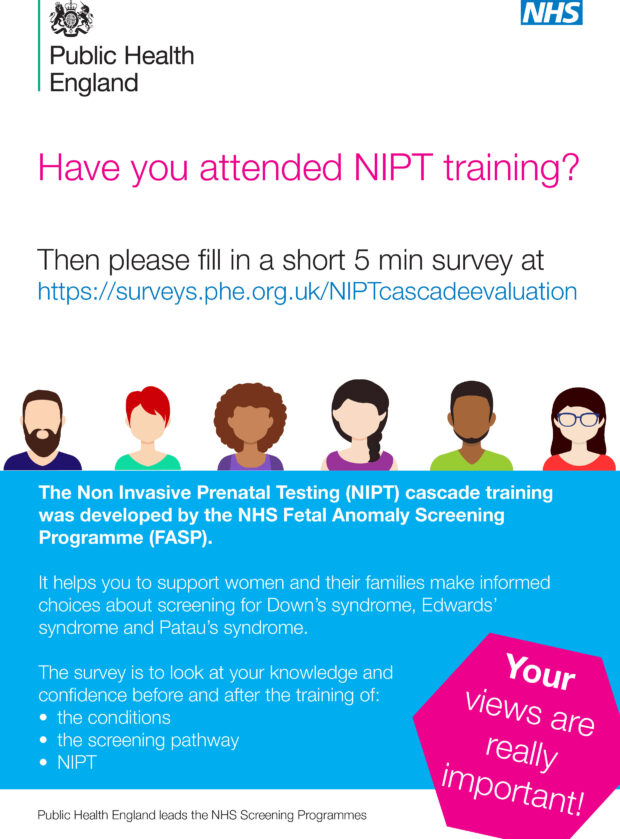 The Department of Health approved the introduction of NIPT in November 2016. We then organised and held a series of national training events to support this change in the autumn of 2017 which evaluated very well.
We also developed a comprehensive cascade training package to support ongoing training in local organisations. One of the main aims of this training is to provide healthcare professionals with high quality information to help them support women and families in making informed choices.
We want to know how this training has impacted on the knowledge and confidence of participants who discuss the offer of screening for Down's syndrome, Edwards' syndrome and Patau's syndrome with women.
We therefore launched a survey to assess their knowledge and confidence, both before and after the training, about:
the 3 conditions
the screening pathway
NIPT
Unfortunately, we received fewer responses than we had hoped for. So we have made the survey simpler and shorter. It:
has just 14 questions
is anonymous
takes just 5 minutes to complete
What we would like you to do
NIPT champions:
We are asking NIPT champions to encourage all participants to complete the survey, even if they had attended NIPT cascade training sessions previously. All views form an important part of the evaluation of the NIPT roll out.
We have prepared a standard email template that NIPT champions can forward to participants to minimise the time they spend on this activity.
We have also developed a poster that can be displayed in staff areas to highlight the survey
Healthcare professionals attending local NIPT cascade training sessions:
Please complete the survey if you are attending, or have attended, local NIPT cascade training.
We will share further information on the plans and progress for the evaluative roll-out of NIPT via the this blog.
PHE Screening blogs
PHE Screening BLOGs provide up to date news from all NHS screening programmes. You can register to receive updates direct to your inbox, so there's no need to keep checking for new blogs.