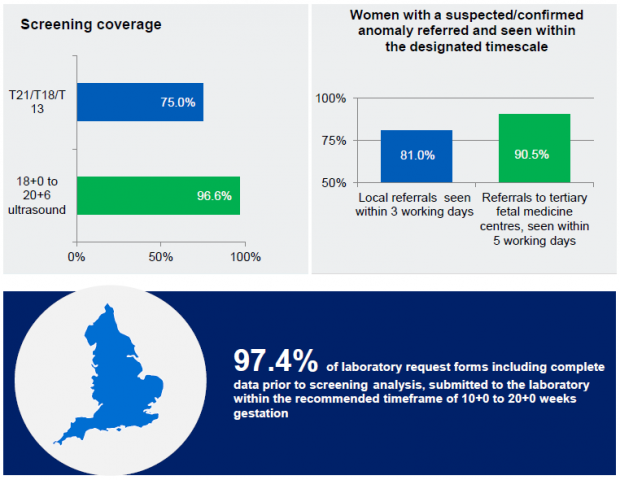 We are pleased to publish the 2016 to 2017 data report for the NHS Fetal Anomaly Screening Programme (FASP).
It covers the period 1 April 2016 to 31 March 2017 and includes information on completeness of data submission and the performance of local screening providers against national standards.
Download the 2016 to 2017 FASP data report
The main issues reported for non-submission or partial submission of data  are recurring themes.
These are:
lack of adequate reporting and IT systems to collect and report data – for example, maternity systems not designed to interface with laboratory systems
inability to define exclusions and split exclusion categories
inability to provide matched cohort data for coverage standards
reporting partial data, for example only 2 or 3 out of 4 quarters of data submitted
Data was not included in the analysis for Standard 1 that relates to coverage of screening for Down's syndrome, Edwards' syndrome and Patau's syndrome in the first trimester if:
providers were unable to account for 3 or more exclusion criteria
data was not matched cohort
Overall, the report shows that data completeness and quality improved compared to the previous year, particularly for standards 8a and 8b that relate to the timely referral of women who have a suspected/identified anomaly at the screening scan.
We believe one of the factors that led to improved data quality is the engagement of providers at the recent antenatal data workshops that supported a better understanding of the reporting requirements.
The image in this blog article was updated on 19 March for consistency with the report.
PHE Screening blogs
PHE Screening blogs provide up to date news from all NHS screening programmes. You can register to receive updates direct to your inbox, so there's no need to keep checking for new blogs. If you have any questions about this blog article, or about population screening in England, please contact the PHE screening helpdesk.