Today, we have published the latest key performance indicator (KPI) data that measures how the NHS screening programmes are performing.
KPIs aim to give a high level overview of programme quality.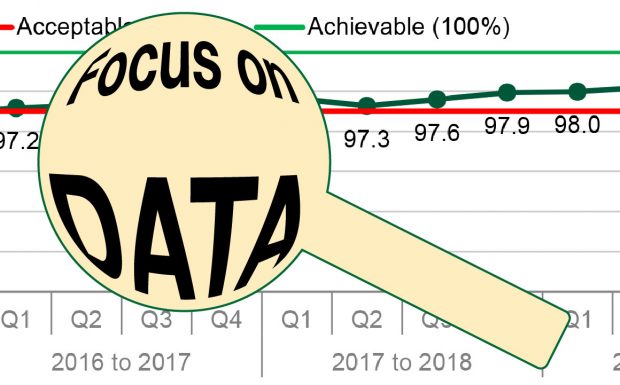 Quarter 1 and 2 KPI data for 2018 to 2019
The latest data covers the second quarter of 2018 to 2019 (1 July to 30 September 2018). It is split into 2 publications, one for the antenatal and newborn (ANNB) programmes, one for the young person and adult programmes.
Data for some KPIs is collected later than others, so we have also updated the Q1 KPI data files for:
CS1 and CS2 – cervical screening coverage (under 50 and 50 and above)
BSC2 – bowel cancer screening coverage
FA2 – fetal anomaly ultrasound coverage
Highlights 
Three of the KPIs reached new record performances in Q2. These were:
Newborn hearing screening NH2 – time from screening outcome to attendance at an audiological assessment appointment: 91.6%

2. Newborn blood spot screening NB2 – avoidable repeat tests (NB2): 2.1% (the lower the percentage the better for this KPI)

3. Fetal anomaly screening FA1 – completion of laboratory request forms: 98.2%

Summary factsheets report
Next week, we will publish our latest KPI summary factsheet report. This will include:
highlights of the data
national trend information up to the most recent quarter available
regional quarterly performance
We advise you to regularly remind yourself of the screening KPI definitions in the reporting data definitions document to stay up to date with the most recent updates and thresholds.
New templates
Please be aware that the Q3 (2018 to 2019) templates for maternity services and for child health information systems were published on 1 February. These are for submitting KPIs for the antenatal, newborn blood spot and newborn and infant physical examination programmes.
Please send any queries, suggestions or feedback about the KPIs to the PHE Screening Helpdesk.
PHE Screening blogs
PHE Screening blogs provide up to date news from all NHS screening programmes. You can register to receive updates direct to your inbox, so there's no need to keep checking for new blogs. If you have any questions about this blog article, or about population screening in England, please contact the PHE screening helpdesk.