More than 100 people have now successfully gained their Level 3 Diploma for Health Screeners.
The diploma is the recommended national training programme for new screeners in the newborn hearing, abdominal aortic aneurysm (AAA) and diabetic eye screening (DES) programmes. It assures providers that staff are screening safely, independently and in line with national standards.
In this blog article, an assessor for the diploma, Emma Wright, and one of the 100-plus screeners to have completed the diploma, Jacquie Brennan, share their experiences.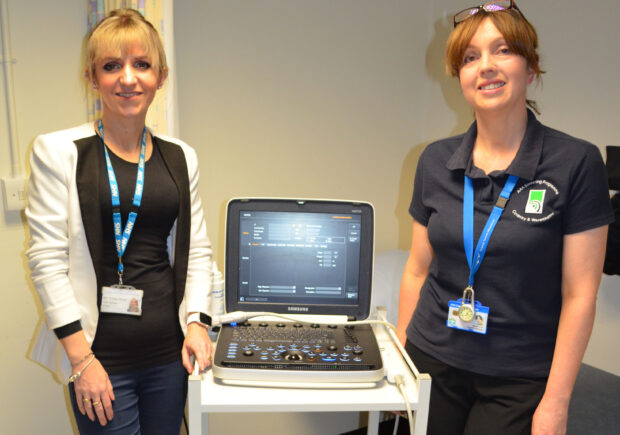 Working together to make steady progress
My name is Emma Wright and I am the administrative manager for the Coventry and Warwickshire AAA Screening Programme. After working for the programme for 6 years, I had the opportunity to do the Certificate of Assessing Vocational Achievement (CAVA) qualification.
This means I can support screening technicians studying for the diploma. The clinical skills trainer (CST) and I are responsible for guiding the screening technicians as they work through the diploma. We do this by observing and assessing their practice in the workplace and giving them feedback on their performance.
Jacquie was my first learner. We started by establishing what previous skills and experience she had. We then made the first of many learning assessment plans together and agreed what evidence of learning she would need to submit.
We met monthly to review Jacquie's progress against the assessment plan and agree new actions. We coordinated assessments and set dates for learning milestones with the CST, making sure Jacquie felt confident with them. Recording professional discussions was a great way for us to easily provide evidence of understanding, which is an important element of the qualification. That meant a lot less typing up for both of us which was a bonus.
We did not just focus on individual evidence for each assessment criterion. Instead, one activity or observation provided evidence for many assessment criteria. This reduced repetition and again meant less writing up for Jacquie, although still loads for me! It was great to see Jacquie in her role and see how so many criteria could be seen in one event and the progress bar on her electronic portfolio leaping up.
It was important that Jacquie worked closely with me, her CST and line manager while undertaking the diploma. We agreed regular times for reviews, discussions, observations and one-to-one meetings. It was essential that everyone involved was kept up to date with Jacquie's progress and any support needed.
It might sound corny, but good communication to understand each other's expectations, along with regular reviews, was vital to completing the diploma in a timely manner. We maintained steady progress by regularly checking in with everyone and clarifying understanding and expectations.
As soon as Jacquie had any evidence ready she would submit it to me for assessment. I liked to assess it as soon as practical so we could both see positive development and progress. All in all we found it a positive experience!
Confidence grew steadily through learning process
My name is Jacquie. I joined the Coventry and Warwickshire NHS AAA screening programme in September 2017 and was awarded the diploma qualification in August 2018.
As one of the first 100 successful learners I did initially find the qualification a bit daunting, particularly as I did not have a background in healthcare, but a really thorough induction soon eased my worries.
I discovered how the qualification was structured into different units, some of them mandatory and others specific to my role as an AAA screening technician. I soon found out who could advise me and what tools and technology were available to help me.
My advice to anyone about to embark on the diploma is that you will find a ton of support from the approved centre, your assessor, CST and colleagues. Always ask for help so that you never have to struggle on your own.
What I liked most about the learning process was that it was led by me, meaning I could provide evidence in a format that suited my style of learning. My confidence grew as I became more knowledgeable and competent.
With support from my CST and assessor I have developed the technical skills and role-related knowledge to become a successful AAA screener. A huge bonus is that my qualification is nationally recognised and transferable in the health care sector. It's a win win!
Health Screener Diploma update sessions
There are still a few places at the Health Screener Diploma half day update sessions in London on Thursday 7 March 2019.
These sessions are aimed specifically at screener assessors and programme managers. Topics covered include:
PHE update
e-resource demonstrations
local programme experience of the diploma
getting the most from your approved centre
To register please click on the corresponding survey for your preferred session:
Health Screener Diploma half day update sessions
Radisson Blu Edwardian, 130 Tottenham Court Road, London W1T 5AY
Thursday 7 March 2019
Register for morning session
Register for afternoon session
Please note numbers are limited and registration will close once this limit has been reached.
PHE Screening blogs
PHE Screening blogs provide up to date news from all NHS screening programmes. You can register to receive updates direct to your inbox, so there's no need to keep checking for new blogs. If you have any questions about this blog article, or about population screening in England, please contact the PHE screening helpdesk.