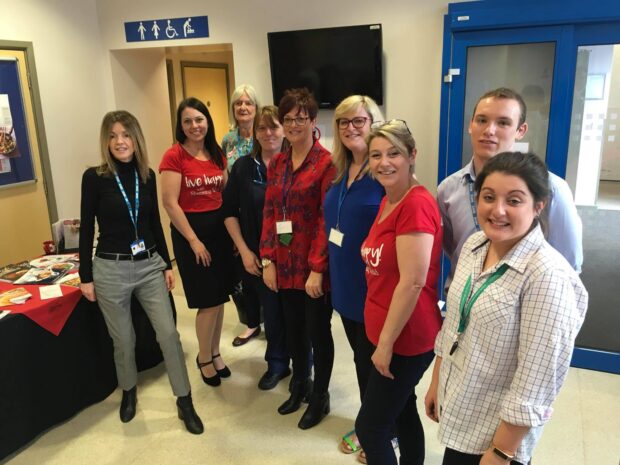 The East Anglia Diabetic Eye Screening Programme has helped to successfully pilot a new one-stop shop for people with diabetes.
Screening for diabetic retinopathy is just one of the regular essential checks that people with diabetes should access to manage their condition well.
However, many people do not take up every free check they are entitled to. This can be for a variety of reasons, including difficulty getting time off work to attend multiple appointments.
Innovative solution
One GP practice in East Anglia had identified that a number of people with diabetes who attended their annual diabetic eye screening tests did not take up their other appointments, such as blood sugar tests, advice on diet and foot checks.
We therefore joined forces with the practice to plan and implement an innovative solution, our one-stop shop.
This offers people the chance to receive most of their regular diabetes care processes at the same time as their diabetic eye screening test. They can also be referred to other organisations for interventions such as weight management, health walks and diabetes education programmes.
In order to invite people to the one-stop shop we first worked with the practice to validate our list of eligible individuals.
We then organised the first pilot session at East Norfolk Medical Practice in April 2018.
About 4 weeks before the session we sent out invitations. We shared our appointment schedule with the practice so they could send a reminder letter to individuals about 2 weeks before.
The practice's reminder letter explained to them that they were being invited to an eye screening test at an allocated time and would be able to have other diabetic care checks while they were there, such as blood tests and lifestyle advice. It was important that they knew what to expect.
Other relevant organisations, including the Desmond diabetes education programme, had stands in the waiting room so they could offer lifestyle advice and take referrals to their services while people were waiting.
We repeated the exercise with a second pilot session at Patrick Stead Hospital, Halesworth, Suffolk, for people with diabetes who were registered at nearby Cutlers Hill Surgery. A podiatrist also attended this session to offer foot checks as part of the patient journey.
Finally, we held a third pilot session at Sole Bay Medical Centre, Reydon, Southwold, to gain extra learning and perfect the process.
Positive feedback
Attendance at all the retinal screening sessions was very good – it was 92% at Patrick Stead Hospital – and feedback from attendees was overwhelmingly positive.
People liked being able to access all their checks in one go and many asked if the scheme could be rolled out to all practices as they thought it was a great idea.
Individuals known to consistently miss appointments, and who found it difficult to get time off work for multiple appointments, decided to attend because they knew they could get their care processes completed in one go.
How it works on the day
After arriving at the one-stop shop the individual sees the diabetic eye screening team first.
They have their visual acuity sight test. They then have eye drops administered, which can take up to 20 minutes to take effect. While they are waiting for their pupils to dilate from the eye drops, they are directed to each of the other available checks they can access on the day.
They then also have the chance to engage with lifestyle organisations and refer themselves into these services if appropriate. After all the other care process have been completed they have their digital retinal photographs taken to complete the eye screening test.
Learning points
Data sharing
If people with diabetes are referred to a lifestyle organisation they need to confirm their consent on a referral form. Patient information cannot be shared with a third party without their consent unless a data sharing agreement is in place with the provider.
Venue 
You need a large waiting room or communal space to host the attendees and lifestyle organisations at a one-stop shop. The clinical space needs to include separate private rooms for individuals to see the retinal screener as well as the other healthcare professionals.
Order of processes
Consider the layout of your venue and decide which order would be best for people to complete their care processes. For example, they may be able to access one of their other regular diabetes checks while waiting for eye drops to take effect before their screening appointment.
Nominated organiser
A named person needs to be responsible for overseeing the smooth running of each pilot session.
This person has a patient list and ensures that people receive each of their care processes. This role is optional but encouraged.
Phlebotomy collection times
Consider the time of the GP practice's phlebotomy transport collection if you are offering blood tests as part of a one-stop shop.
Blood and urine forms
These can either be sent out to individuals with their reminder letters or held at the practice.
Evaluation
It is useful to get feedback from people with diabetes in order to further improve ways of working.
We decided to ask people to complete a feedback form while they were attending the one-stop shop so that their opinions were fresh.
Also consider a follow-up meeting between stakeholders to discuss the session, lessons learned and whether changes should be implemented for future sessions.
PHE Screening blogs
PHE Screening blogs provide up to date news from all NHS screening programmes. You can register to receive updates direct to your inbox, so there's no need to keep checking for new blogs. If you have any questions about this blog article, or about population screening in England, please contact the PHE screening helpdesk.