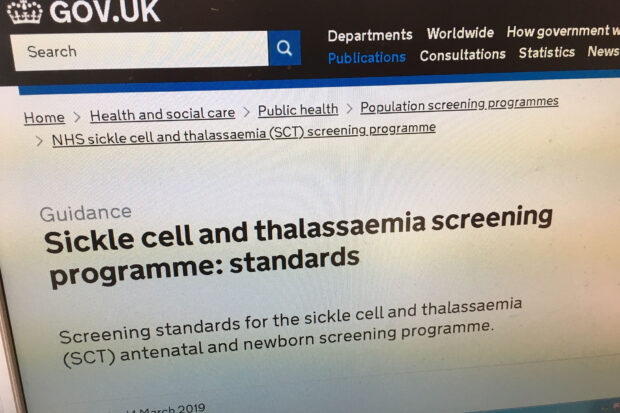 We have published updated national standards for the NHS Sickle Cell and Thalassaemia (SCT) Screening Programme.
The SCT programme offers screening to pregnant women and couples to find out if they are at risk of having a baby with sickle cell disease or thalassaemia major, which are serious inherited blood conditions. This gives parents time to consider the options available. Screening also aims to improve infant health through prompt identification and treatment of affected babies.
The new updated standards should help improve the quality and consistency of SCT screening by making sure providers measure important points in the screening journey and use the same definitions so information can be measured and compared.
The standards measure coverage and timeliness of:
antenatal screening and prenatal diagnostic (PND) tests
laboratory test turnaround times
reporting screen positive results
receipt of screen positive babies into treatment
What has changed?
The standards template has been updated and will be used for all future revisions of screening programme standards.
The updated standards are in HTML format rather than PDF.
Reporting arrangements are better explained and the definitions for standard 2 and standard 9 are clearer.
The supporting information to the updated publication details the changes and pathway themes. It also provides additional resources to support providers and commissioners.
The revised standards will come into effect, and annual data will be collected against them, from 1 April 2019 onwards.
PHE Screening blogs
PHE Screening blogs provide up to date news from all NHS screening programmes. You can register to receive updates direct to your inbox, so there's no need to keep checking for new blogs. If you have any questions about this blog article, or about population screening in England, please contact the PHE screening helpdesk.