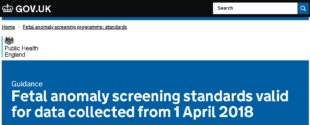 We recently blogged about why HTML documents are replacing PDF ones.
We now publish many, if not most, of our screening publications this way.
Please take a look at some of our recent HTML publications:
Newborn hearing screening standards
Newborn and infant physical examination screening standards and handbook
Bowel cancer screening standards
Fetal anomaly screening standards
Infectious diseases in pregnancy screening standards
Like with any change, we expect this has taken a bit of getting used to.
I remember what a shock many people got when we first moved content from the old screening websites to GOV.UK but hopefully most of you by now are completely comfortable with it.
But if you're not yet used to HTML then please don't panic. Hopefully this blog will answer most of your questions.
Benefits and drawbacks
The PHE Screening team has been won over by HTML documents. In particular we like that they are much more interactive.
For example, they:
have a clickable contents section
can easily link to other parts of the same document, or to specific sections of other HTML documents on GOV.UK
spell out acronyms when you hover over them
link to our new screening glossary which explains more about some common words and terms
We also like how much better they are to search. If you're trying to find a particular word or term, use GOV.UK or Google to search for it in the HTML document.
In PDF files, only information like the title, author and summary would be searched, which is much less useful.
Many people have asked how to search an HTML document.
To do this just go to the find option in your web browser (<Ctrl> F will open this), type the word or phrase you want to find and press <Enter>. Easy!
The main drawback people have identified to us is around printing or saving an HTML document.
In general, the government's 'digital by default' policy encourages people to always go to GOV.UK and read content online. This ensures they always get the most recent version.
Printing or saving documents means they can quickly become out of date. But we know there are sometimes good reasons to do this.
It is still possible to print or save HTML documents – here's how.
Printing HTML documents
To print an HTML document, you should:
go to the page you want to print
go to the print menu (pressing <Ctrl> P is a useful shortcut)
select any appropriate options (like double-sided printing to save paper!)
press print
The printed version will remove the unnecessary elements of the webpage, such as the header, footer and menu options, and just print the content itself. It will also fit the content to whatever size of paper you're using.
Saving HTML documents
Anything you can print, you can also save to your own computer as a PDF. To do this you should:
go to the page you want to print and find the print option as before
select 'PDF' or 'Adobe PDF' in the printer option
press print (or save in some web browsers)
This will save the HTML document as a PDF file.
One thing to note. If you print or save an HTML document all the hyperlinks will be written out in full. This is often helpful but can make the text hard to read if there are lots of links.
We're hoping this issue will be sorted out. Until then, if you find the hyperlinks cause too much of a problem you can:
copy and paste the text from the HTML document into Word
use a plug-in for your web browser to save the HTML document as a screenshot
Your local IT team should be able to help with either of these options.
I hope these hints and tips are useful.
If you need any further help with HTML documents, or have any other comments or suggestions, please contact the screening helpdesk.
PHE Screening blogs
PHE Screening BLOGs provide up to date news from all NHS screening programmes – replacing our previously published newsletters.
You can register to receive updates direct to your inbox, so there's no need to keep checking for new blogs.