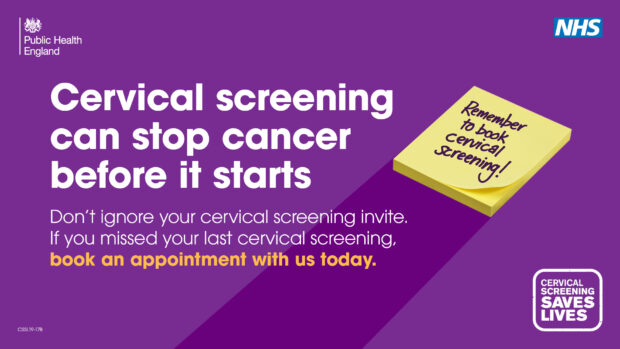 Most colleagues in primary care will be aware of Public Health England's current cervical screening campaign, which started on 5 March.
The campaign highlights the NHS Cervical Screening Programme which has made a significant impact on cervical cancer mortality since it was established in 1988, saving an estimated 5,000 lives a year. However the uptake in the screening programme has declined in the last decade with current coverage is at a 20-year low and the programme is not meeting its 80% coverage standard. It is because of these concerns that the campaign was started.
More information is in this letter I wrote with Cally Palmer, National Cancer Director at NHS England.
Campaign resources
All GP practices in England should have received a resource pack in late February. Further resources can be downloaded from the PHE Campaign Resource Centre.
My GP colleague Dr Jim McMorran has said:
The campaign will hopefully encourage more women to participate in the screening programme and so reduce their cancer risk; with a consequent increase in women contacting our surgeries for smears.
I know that capacity is an issue but am very grateful for all you are doing to accommodate as many women as possible.
Screening helpdesk does not have access to results
Please do not point women to the PHE Screening helpdesk with queries about results.
PHE does not have access to patient records so all the helpdesk can do is direct the women back to their GP, which inevitably causes frustration on all sides and doesn't assist with access to screening tests.
You should be able to find a woman's cervical screening history on your local practice IT system, or else on the Open Exeter System run by Primary Care Support England (PCSE). You should contact PCSE with any queries.
Opting out and women with symptoms
As ever, I would stress that screening is a choice and that while I hope the campaign will encourage women to be screened, those who make an informed decision to opt out should never be put under pressure to change their mind.
And for women under 25 showing any symptoms of cervical cancer, screening is not appropriate but the guidance on clinical assessment should be followed.
You can read Dr Jim McMorran's series of screening blogs for primary care, including a good summary on cervical screening. We also have information for GPs and practice staff on GOV.UK and collaborated with the RCGP on a cervical screening e-resource.
This blog was updated after publication to include additional links in the final paragraph.
PHE Screening blogs
PHE Screening blogs provide up to date news from all NHS screening programmes. You can register to receive updates direct to your inbox, so there's no need to keep checking for new blogs. If you have any questions about this blog article, or about population screening in England, please contact the PHE screening helpdesk.