The 11 national screening programmes cover a wide variety of conditions, age ranges and screening tests.
However, one thing they all have in common is that GPs and primary care are involved to some extent. It's important we keep GPs informed, whether it's about encouraging partner testing in antenatal sickle cell and thalassaemia screening or supporting informed choice in abdominal aortic aneurysm screening.
I'm Jim McMorran, a GP in a busy urban practice in Coventry and have been involved in helping bring a primary care perspective to developments in the screening programmes. Via my role as Editor for GPnotebook, I know how challenging it is to keep up to date with clinical guidance and developments when the everyday work pressures in primary care are so great.
In light of this, and working with the NHS Screening Programmes, I am writing a series of blog posts to help update my fellow GPs on the most important screening issues relating to primary care, starting with the NHS Cervical Screening Programme.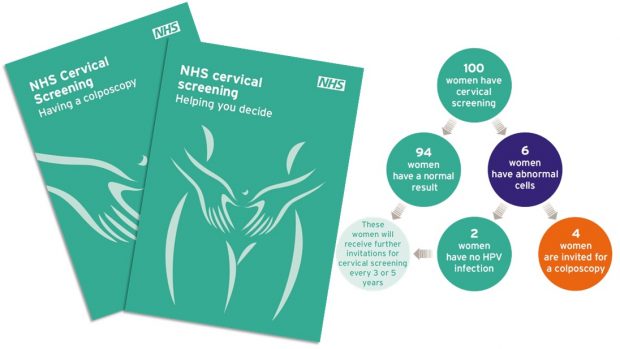 The cervical screening programme screens more than 3 million women a year, saving an estimated 5,000 lives. Primary care is central to this process because:
we receive a prior notification list (PNL) of all women due to be screened
cervical screening is usually carried out by practice nurses or GPs
Primary Care Support England (PCSE) is responsible for the national IT system that supports cervical screening. GPs, practice staff and laboratories can visit the PCSE website for a list of PCSE offices and the current contact details to use. You should visit their contacts page for all queries about the system, including:
how to access patient results and histories
updating patient details
asking for individual patients to be made ineligible (ceased from) screening – for example following a hysterectomy with cervix removal
GPs, practice staff and laboratories should not contact the PHE Screening helpdesk with any of the above queries.
Members of the public should not contact PCSE directly. Patients should contact their GP if they have any questions.
Here's a reminder of some of the most common patient queries about cervical screening.
Can I have my screening result? When is my next test due?
The woman's patient record will have the date and results from her most recent test. Women aged 25 to 49 are invited for cervical screening every 3 years. Women aged 50 to 64 are invited every 5 years. If you can't access their record then you should contact the national PCSE helpline.
Can I be screened without an invitation letter?
Yes. Provided a woman is due for her test then she can be screened, whether or not she has an invitation letter. It will be clear from her medical record if her cervical screening test is due or not.
Can I have a cervical screening appointment?
Yes, provided the woman is due for her test. Women should call their GP practice for an appointment. If they aren't registered with a GP, they should look up details for their local NHS walk-in centre and/or genitourinary medicine (GUM) clinic and ask if they offer screening. Registering with a GP is the best guarantee to access the service.
The NHS Cervical Screening Programme recently introduced new invitation and result letters. It also introduced new information leaflets for women invited to screening, and for women who are referred for colposcopy following an abnormal screening result.
The new invitation letter makes it clear that attending screening is an individual choice. It also has space for the GP practice to enter information about female sample takers, clinic times or practice details.
The new result letters contain result-specific information, so the old leaflet, Cervical screening – what your abnormal result means, is no longer needed. Result letters about non-cervical abnormalities have changed. They advise women to make an appointment to see their GP for a referral to a gynaecologist as soon as possible.
The two new leaflets are:
I look forward to blogging again soon about another screening issue and the involvement of GPs and primary care. Watch this space.
PHE Screening blogs
PHE Screening BLOGs provide up to date news from all NHS screening programmes – replacing our previously published newsletters.
You can register to receive updates direct to your inbox, so there's no need to keep checking for new blogs.