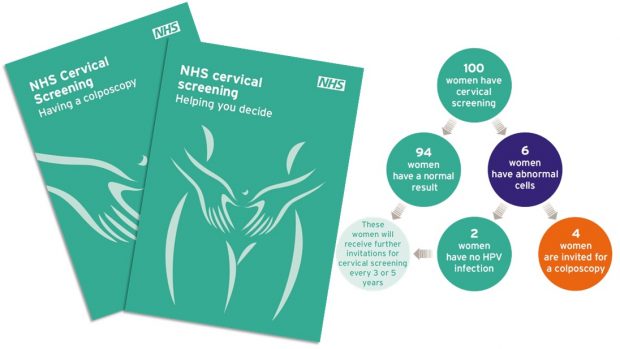 The NHS Cervical Screening Programme has introduced new invitation and result letters, along with new information leaflets for women invited to screening, and for women who are referred for colposcopy following an abnormal screening result.
An independent team of health information experts from King's College London developed the leaflets and letters. They gathered extensive input and feedback from screening professionals, clinicians, academics, charity representatives and women of cervical screening age. This rigorous process helped to inform the letter and leaflet content, and how it is presented.
The new invitation letter makes it absolutely clear that attending screening is down to individual choice. It also has space for the GP practice where the woman is registered to enter specific information, such as mentioning female sample takers and clinic times or practice details.
The new result letters contain result-specific information, so the old leaflet 'Cervical screening – what your abnormal result means' is no longer needed. The letters aim to give women clear and simple information which is easy to understand.
Result letters regarding non-cervical abnormalities have changed and they advise the woman to make an appointment to see her GP for a referral to a gynaecologist as soon as possible.  This alteration was implemented following feedback from the programme.
We also completed a review of the letters used when a woman has been ceased from the screening programme.  Similarly, we have changed these letters to address concerns previously highlighted to us by programme users.
It should be noted that the large number of result letters include some that are only intended for exceptional use, as they relate to scenarios outside standard protocols. We have provided call/recall teams with guidance on the use of these and all other result letters.
The letters are to be used with the two new leaflets: 'Cervical screening - helping you decide' (sent with the screening invitation) and 'Cervical screening – having a colposcopy' (accompanying results letters which include referral for colposcopy).
The leaflets are in an easier to read format and are A5 size.  The invitation leaflet provides key information to help women weigh up the risks and benefits of screening in order to make an informed choice.  It covers information about the human papillomavirus and advises women that, depending on the result of their (cytology) test, their sample may be tested for the types of HPV that can cause cervical cancer. The leaflet also highlights other resources for women to access further information on cervical screening should they wish to.
The NHS Cervical Screening Programme has worked extensively with colleagues in NHS England to enable the implementation of these new materials and this process is currently under way across England. I would personally like to thank all those staff in the programme who are making this happen.
PHE Screening blogs
The PHE Screening blog provides up to date news from all NHS Screening programmes – replacing our previously published newsletters.
You can register to receive updates direct to your inbox, so there's no need to keep checking for new blogs.