Have a quick look below to see if you missed any of the 13 screening blogs we published in October 2018.
Antenatal and newborn screening
Say hello at the Royal College of Midwives conference
PHE Screening had a stand at this year's Royal College of Midwives (RCM) conference in Manchester where we updated delegates on all the antenatal and newborn national screening programmes.
Introducing 3 new faces to PHE screening
PHE Screening is delighted to welcome 3 new members of staff.
Looking after the health of our mammography workforce
We have published new good practice guidance for ergonomics in breast screening mammography for employers and employees.
New guidance for breast screening services on recording vacuum-assisted excisions
The NHS Breast Screening Programme published new guidance on recording vacuum-assisted excisions, aimed at screening office staff, pathologists and healthcare staff who carry out the procedures.
Find out everything you need to know about the brand new website for the Sloane Project.
HPV primary cervical screening update
In 2016 it was announced that HPV primary screening will be rolled out in the cervical screening programme across the whole of England by 2020. This blog gives an update on latest developments.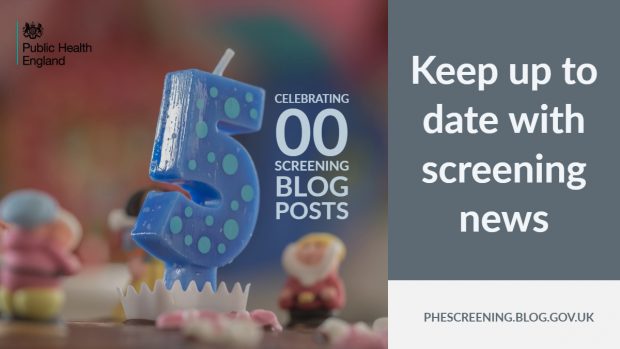 After 500 posts, tell us what you think of the blog
To mark our 500th PHE Screening blog post, we launched a survey so you can let us know how to make our next 500 posts even better than the last.
Guide to 2018/19 screening specifications
NHS England has published the 2018 to 2019 service specifications, which are important reading for those involved in the commissioning and provision of screening services in England.
Tackling screening inequalities in Merseyside
Between 2014 and 2017 Marie Coughlin was the lead officer for the Merseyside Cancer Screening Plan. She shares how she helped raise awareness of screening, particularly within vulnerable and hard to reach groups.
Annual call for new screening programmes open
The doors of the UK National Screening Committee are open as we mark the beginning of our call for ideas for new population screening programmes.
Testing, testing 123 - new IT system on its way for newborn and infant physical examination screening
The launch of the new IT system for the Newborn and Infant Physical Examination is planned for spring 2019. An enthusiastic expert group met in Nottingham for 2 days of intensive testing.
Gail Allan reflects on 16 glorious years in newborn hearing screening
Gail Allan is retiring after 16 years working for the NHS Newborn Hearing Screening Programme. She reflects on her experiences and the successes of the programme.
Importance of feedback in newborn hearing screening
A blog about some of the great work being done to promote the importance of newborn hearing screening.
PHE Screening blogs
PHE Screening blogs provide up to date news from all NHS screening programmes. You can register to receive updates direct to your inbox, so there's no need to keep checking for new blogs.