Moving a website is never easy - but the hope is that all the hard work is worth it!
Today we're happy to launch the new home of the Sloane Project, which is an audit to better understand a number of early developing conditions which can lead to breast cancer if untreated.
It houses the forms breast screening units use to send us information, guidance to help with the forms, plus more general information about what the project is all about and the types of disease we're interested in.
The old Sloane Project website was one of the last screening sites to be moved onto GOV.UK so it's good to catch up and benefit from new, improved web content (we hope you agree!).
Those of you who need a little time to get used to things shouldn't panic. The old website will continue to run until the end of October 2018, at which point you'll be redirected to the new pages automatically.
We really need breast screening units to continue to support us and hope the improved new website will help make things even easier. If you'd like to find out about the work we do you can read more about the project in a previous blog we wrote.
Sloane overview
The Sloane Project has a main page which should be the first port of call. This page includes information about:
All important forms
From the main page there are links to 2 further pages - one for the main form and one for the follow up form.
Main form page
There are 2 attachments on the page housing the main form. These are:
The guidance will help you answer the questions on the form and includes images to help you identify what we're looking for.
Follow up form page
The follow up form is to send in data on women who are already known to the Sloane Project when they have been diagnosed with a further breast cancer, regional or distant event. We designed it as a writable PDF after getting feedback from our users.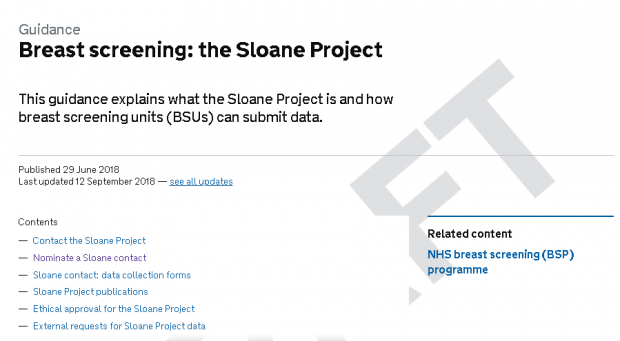 Closing the old website
We will close the old website at the end of October. This will give us time to ensure the new GOV.UK pages are working properly and to capture any feedback.
When we close the old website, the old link (www.sloaneproject.org.uk) will send you automatically to the new Sloane Project pages on GOV.UK.
The old Sloane website will be saved on the national archive, so you will still be able to refer back to it if you need to.
PHE Screening blogs
PHE Screening blogs provide up to date news from all NHS screening programmes. You can register to receive updates direct to your inbox, so there's no need to keep checking for new blogs.