It's hard to believe it's been a year since the last annual call but the UK National Screening Committee (UK NSC) is once again open to ideas for new population screening programmes. The deadline for submissions is midnight on 14 December.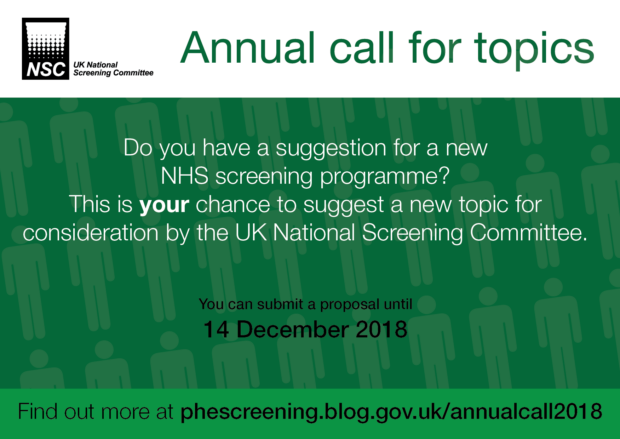 Breast cancer, sickle cell disease, hearing impairment... just 3 of dozens of routinely screened conditions in the UK by our national screening programmes. Over the years these programmes have gained worldwide recognition and serve as a model for other countries.
The UK NSC is the body responsible for advising the UK governments on which screening programmes to introduce. They currently review a list of over 100 recommendations every 3 years to keep up-to-date with the latest evidence. This is known in the industry as making 'evidence-based policy.' If you can access the BMJ, there's an article on evidence-based policy making by my predecessor, Sir Muir Gray.
Perhaps there's a health condition which is not on the UK NSC list? An important condition which affects a defined population, such as infants, pregnant women or older men? If you know of such a condition then the UK NSC invites you to submit a proposal. The result could be that a national screening programme is introduced at some point in the future.
Last year's annual call
Last year we received 4 proposals in the annual call. Unfortunately only one of these was both in the remit of the UK NSC and a new topic. The others were either proposing a change to an existing screening programme, or targeting high risk groups. We have therefore amended the proposal template to better explain the assessment criteria.
Here's a summary of last year's submissions.
| | |
| --- | --- |
| Screening for keratoconus in children and young adults with Down's syndrome | This falls outside the UK NSC's remit of population screening programmes. |
| Screening for increased risk of stroke in children with sickle cell disease | This is outside the remit of the UK NSC but part of the existing care pathway for children with sickle cell disease. |
| Screening for auditory neuropathy spectrum disorder in newborns | This will be considered as a potential modification to the newborn hearing screening programme. |
| Endometrial cancer | This met the criteria for consideration as a new topic for the UK NSC. However, after reviewing the evidence it cannot currently be recommended for a new screening programme. |
Making a submission
But before you write your proposal, please take a step back and have a think about these key questions:
Are you sure that the condition is not already on the UK NSC list?
Is the condition found in the general population and not in specific high-risk groups?
Is there a reliable test and effective treatment?
Is there peer-reviewed literature to support your proposal?
If your answer is 'yes' to all the questions above then you may already have a strong case to send to the committee. Find out more about the submission process, including the proposal template and guidance.
Proposals are first internally assessed by the UK NSC secretariat to ensure that they are in the remit of the UK NSC. They are then taken to an expert evaluation group for a more in-depth assessment. Finally, those which meet the criteria outlined in the guidance are taken to the UK NSC for formal consideration.
I very much look forward to seeing your proposals.
PHE Screening blogs
PHE Screening blogs provide up to date news from all NHS screening programmes. You can register to receive updates direct to your inbox, so there's no need to keep checking for new blogs.