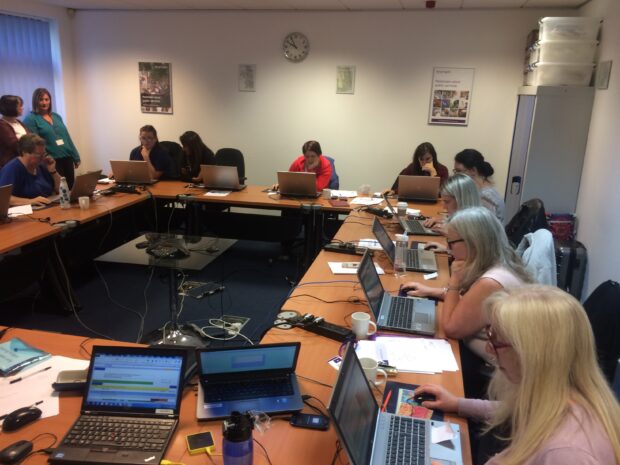 The launch of the new IT system for the Newborn and Infant Physical Examination (NIPE) is planned for spring 2019.
Part of preparing for the big launch is to ensure we get the thoughts of the professionals who will eventually use it on a daily basis.
An enthusiastic expert group met in Nottingham for 2 days of intensive testing of the new IT system, SMaRT4NIPE (S4N).
Volunteers were drawn from a range of professional disciplines and brought lots of different skills to the work. The group included:
NIPE leads
clinical midwives
midwifery managers
screening failsafe officers
antenatal and newborn screening co-ordinators
a consultant neonatologist
The group are familiar with the current NIPE SMART system, but there was a definite positive reaction to the look of the new IT and what it can do.
Thumbs up
The 2 days were opened by Jill Walker, Public Health England's (PHE) NIPE programme manager, and work soon started on testing out the new IT, with its more modern look and feel.
Camaraderie and friendly banter helped the group get through an enormous amount of work and a great deal was achieved.
The sessions, hosted by PHE and Northgate Public Services, have given us an excellent benchmark for the future rounds of testing, which will happen over the next 10 weeks.
Emma Freeman, local NIPE coordinator for Salisbury Foundation Trust, said:
I really enjoyed testing the new IT system and can see the benefits of the newer platform. The system is intuitive to use and has a familiar yet progressive feel.
Carolyn Barbet, antenatal and newborn failsafe officer at Princess Alexandra Hospital, Harlow, said:
An interesting two days of testing the new NIPE IT platform. I am feeling positive about this new look system which is a lot more user friendly.
Hannah Shore, consultant neonatologist at Leeds Teaching Hospitals NHS Trust, said:
The system is so much more user friendly and easy to navigate. The search function to generate reports is also much improved. I was impressed at how keen the NIPE programme team and Northgate are to get this right for our babies. Genuinely excited about this going live next year.
One of the advantages of the new S4N system is that it will be easier to update in the future.
Next steps
Work will now continue to further test S4N. The project team will ensure the system meets the high standards expected of a screening IT system before next year's launch.
Local trusts will be planning a number of activities in advance of full rollout. These include:
online training for cascade trainers to understand the changes so they can deliver sessions in their areas early in 2019
local checking of the configuration of the new system (once it is released)
S4N will provide a more modern software platform which will be easier to use, support and develop in future.
PHE Screening will continue to keep you updated in advance of launch so keep an eye on our screening blogs for more updates over the next few months.
PHE Screening blogs
PHE Screening blog articles provide up to date news from all NHS screening programmes. You can register to receive updates direct to your inbox, so there's no need to keep checking for new blogs.