The NHS Newborn and Infant Physical Examination (NIPE) programme screens newborn babies within 72 hours of birth, and then once again between 6 and 8 weeks of age, for conditions relating to their eyes, heart, hips and testes.
The NIPE Screening Management and Reporting Tool (NIPE SMART) IT system is provided free to trusts. It is used to identify eligible babies and record and manage local newborn NIPE screening pathways.
Pilot sites started using the system in 2011 and last year we added it as a mandatory requirement to our section 7a service specification.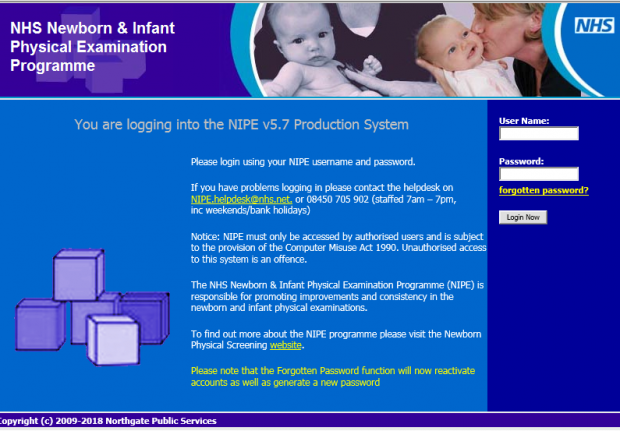 Updating the IT 
Northgate Public Services (NPS), which runs NIPE SMART, is working with us to develop a new IT platform for the system. We will rename it SMaRT4NIPE (S4N) and are planning for it to go live in spring 2019.
S4N will provide a more modern software platform which is easier to use, support and develop.
The change is similar to the upgrade of the newborn hearing screening programme's SMaRT4Hearing (S4H) system, which happened in December 2016. We aim to learn from that process to:
run this project in the most efficient way
meet the expectations of everyone who uses NIPE SMART
provide a system which is fit for purpose and useful
S4N will have the same look and feel as NIPE SMART but with a more modern, fresh appearance and improved functionality.
Training
We plan to:
run online cascade (train the trainer) training sessions for NIPE leads and 'super-users'
provide training resources to support you and your service
minimise the amount of extra training required for NIPE screeners
We will keep you up to date with progress on training requirements, dates and resources.
Keep up to date with the move to S4N
Over the coming months, leading up to go-live, we will be helping you to prepare for the transition by:
sending out direct communications
providing resources and tools to help with the transition
writing articles on this blog about progress on the project
Contact us
If you have any queries about the transition to S4N then you can contact the NIPE programme team team via the screening helpdesk.
PHE Screening blogs
PHE Screening BLOG articles provide up to date news from all NHS screening programmes. You can register to receive updates direct to your inbox, so there's no need to keep checking for new blogs.