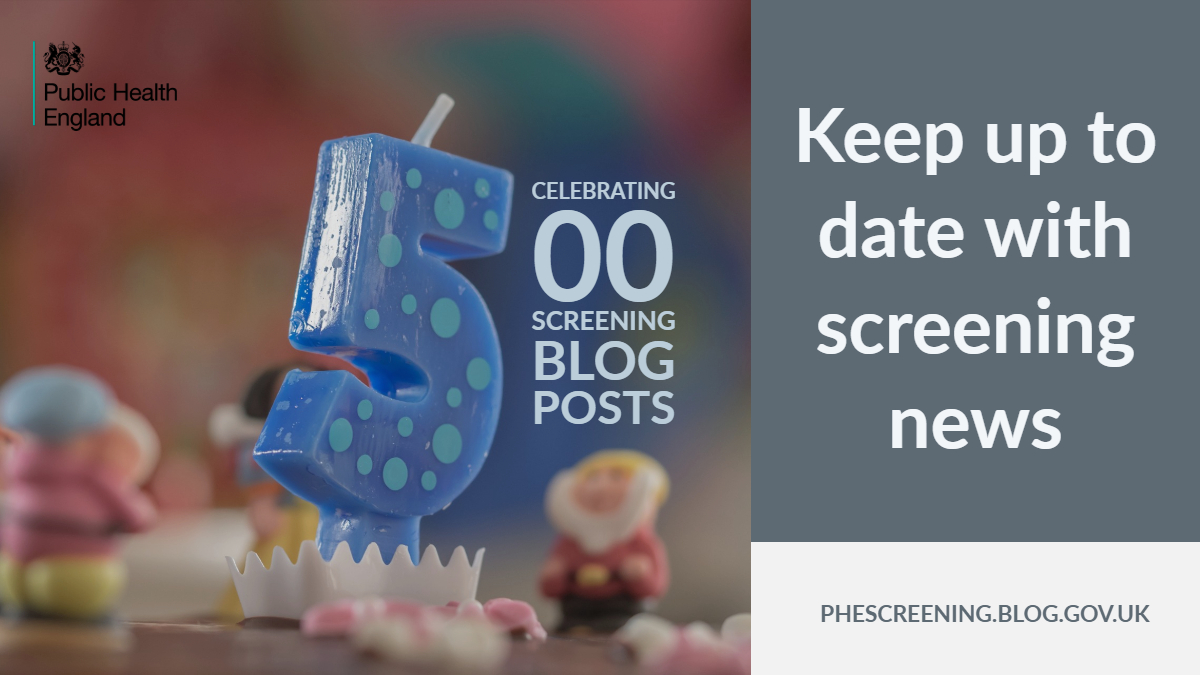 The story so far
Yes, it's hard to believe but this is our 500th post on the PHE Screening blog! Before the blog started, some people worried if we'd have enough to write about. Now, the reverse is true – we could probably blog every day if we wanted to but we try to spread them out so we're not bombarding you.
Since the blog started, we've had:
500 posts from more than 150 different authors (our friend Dr Jim McMorran is the author whose bio has been read most often)
visitors from 109 countries around the world (after the UK, the next most have been from the US, Ireland, Australia and India)
more than 300,000 separate people reading blog posts more than 800,000 times
The most popular category is cervical screening, followed by bowel cancer screening. The most popular tags are antenatal screening, newborn screening, data and kpis, and events and courses.
Here's a short video to highlight some features of the blog you might have forgotten about (it's only 44 seconds long). If you're using an old web browser and the video doesn't show up below, try watching it directly on Vimeo instead.
Making our next 500 even better
It has been a while since we last asked our readers to tell us what they think of the blog and how it could be improved. So to mark 500 posts, we're launching a survey so you can let us know how to make our next 500 posts even better than the first.
We know you can sometimes feel bombarded by surveys and consultations and we do really appreciate your help in completing ours. To make it easier for you we've kept it really short. There are just 10 questions and if you want you only need to complete the multiple choice ones! It will remain open until Friday 30 November 2018.
What often happens when people visit a survey is they think they will fill it in later but then never quite get round to it. I've done that many times.
So maybe wait until you have a mug of your favourite hot drink, a biscuit of some sort (I like shortbread, though I'm probably not supposed to say that working in public health...) and then click on the link. I honestly don't think it would take more than 2 or 3 minutes to complete.
Finally, a huge thank you to everyone who reads the blog. And to those of you who complete our survey. We cannot give you a prize but you'll have our gratitude.
PHE Screening blogs
PHE Screening blogs provide up to date news from all NHS screening programmes. You can register to receive updates direct to your inbox, so there's no need to keep checking for new blogs.