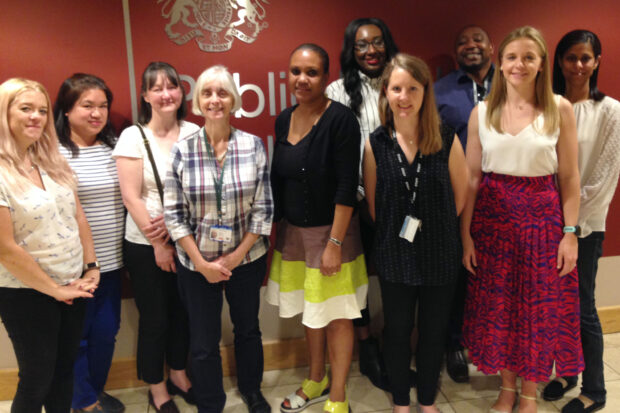 After 5 years in post as Newborn Blood Spot Failsafe Solution (NBSFS) project lead I am retiring.
I made the brave decision in January 2014 to make a career change after spending most of my working life in paediatric nursing and nurse education.
I took up a one-year contract to implement the NBSFS, which was then the 'new' IT system to make sure babies did not miss the offer of newborn blood spot screening.
Within a couple of years, the NBSFS became firmly established, and so did I, as I found my niche in the PHE Screening division and the NHS Newborn Blood Spot Screening Programme team.
I cannot believe how much I have learnt in the past 5 years. At first I found the IT and data language baffling, along with the many PHE abbreviations and acronyms. But they soon started to make sense and I realised I had skills and knowledge from my paediatric background for the job. I even stopped thinking that changing career at this point in my life had been a mistake!
As the NBSFS grew and developed the job became even more satisfying as I could see what a difference the system was making in ensuring that babies were screened on time.
Team effort
Developing a national IT system has had its frustrations, which is inevitable when bringing together many stakeholders and agencies, but patience and perseverance (to say nothing of a natural stubborn streak) have prevailed.
There are not many jobs which benefit every single newborn baby in the country, but those of us working in the newborn screening programmes have that privilege.
Screening is always a team effort and every part of my job has depended on working with others. This has been one of the greatest pleasures. So many colleagues have been involved that it is impossible to name them all – I hope you all know who you are; your commitment to screening is inspirational.
This job has changed my outlook on life in a variety of ways. I now have more appreciation for the importance of preventative healthcare which, like many, I used to underestimate.
Now, when I do my online shopping, I think of the hours of effort that go into making the smallest change to a website. And when I saw the charming photograph of the new royal baby's feet, my first thought was of the newborn blood spot screening test!
When I took on that one-year contract in 2014, I did not expect to be here 5 years later. The decision to retire from such an interesting and enjoyable job has not been an easy one but I leave with happy memories of good friends and the satisfaction of having been involved in such worthwhile work.
PHE Screening blogs
PHE Screening blogs provide up to date news from all NHS screening programmes. You can register to receive updates direct to your inbox, so there's no need to keep checking for new blogs. If you have any questions about this blog article, or about population screening in England, please contact the PHE screening helpdesk.