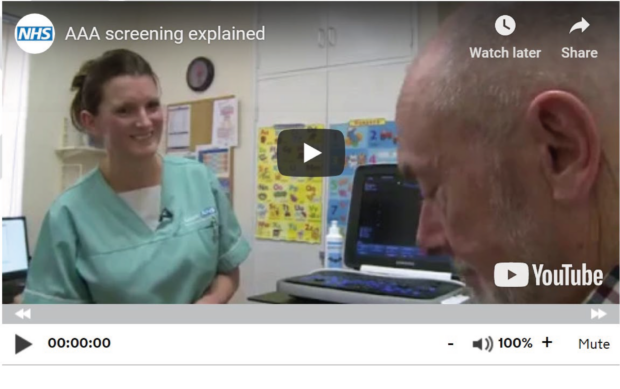 We know people with learning disabilities can find it more difficult to access screening due to a lack of awareness and understanding.
We – the Dorset and Wiltshire Abdominal Aortic Aneurysm (AAA) Screening Service – met up with a learning disability team in Poole, Dorset, to:
make sure it was aware of AAA screening
find out what support people might need before and during appointments
It quickly became clear that a short film about AAA screening would be a really useful resource for eligible men with learning disabilities, so we decided to put one together.
We decided to maximise its benefits by aiming it not just at people with learning disabilities but at anyone who might not understand AAA screening, feel nervous about it or be considering self-referring for screening.
Making and publicising the film
We worked with the communications team at the Royal Bournemouth Hospital to put the film together and one of our patient representatives was happy to 'star' in the film as a man attending his screening appointment.
We checked the content with the national programme team before publishing it and the video, now available on YouTube, explains what happens at an AAA screening appointment.
A shortened 30-second version of the film is also available.
Following the film's launch, the Poole learning disability teams has included a link to it in its newsletter which goes out to 500 recipients, including learning disability service providers, colleagues, carers, advocates and friends.
We will be publicising the film in the same way with learning disability teams in Wiltshire and contacting GP practices to ask if they can show the film in waiting rooms.
A link to the film has been added to a flyer going out with our standard screening invitations, it is being featured on our intranet and Twitter page and has been added to the national guidance for AAA screening providers and commissioners on reducing inequalities.
We hope the film will have a positive impact on the ability of men with learning disabilities to access screening and plan to evaluate how successful it has been.
PHE Screening blogs
PHE Screening blogs provide up to date news from all NHS screening programmes. You can register to receive updates direct to your inbox, so there's no need to keep checking for new blogs. If you have any questions about this blog article, or about population screening in England, please contact the PHE screening helpdesk.