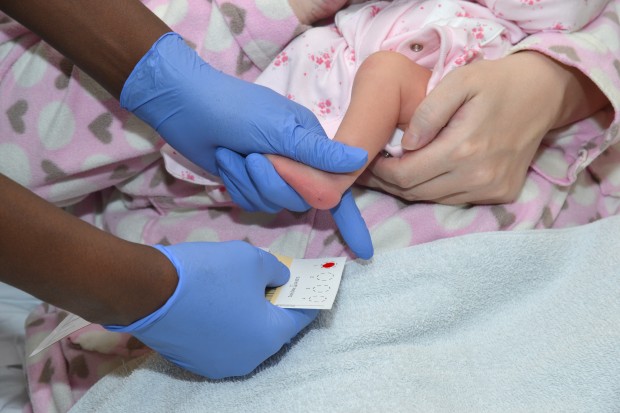 The newborn blood spot failsafe solution (NBSFS) is the IT system used by all maternity units to make sure that the offer of newborn blood spot screening is never missed.
We are always looking for ways to make the system better and we're delighted to announce that some fantastic new features have been added and will be available from Wednesday (15 May 2019).
Searching for records made easier
You can now search for records in NBSFS by a baby's age in days rather than having to work out the dates on the calendar. The option to search by date will still be available for those who prefer this method.
Clearer messages
Users told us that messages on the login page were easy to miss. As a result we have introduced a new page which allows messages to be displayed more clearly.
It's also now possible to highlight the importance of a message and indicate if a notification has been updated.
Messages can also be viewed on the main homepage used to track babies.
Easier to find things
It's now easier to find what you need on NBSFS. We've improved access to documents on the system by setting up a whole new location for them. Head to the 'resources' section.
Print NHS labels
Users can now print a barcoded NHS number label from a record. A guidance document is available in the new 'resources' section giving full instructions, including the type of labels required.
Changing details as easy as ABC
Your email and phone details can now be added to the system which will make it easier for other NBSFS users to contact you.
User details are displayed in the 'notes' section when the cursor is hovered over the name of any user who has added a note or taken an action.
Your details can easily updated by clicking on your name in the blue bar at the top of the tracking page and selecting the 'edit profile' option.
Do please take a moment to make sure your details are up to date!
Helpful updates for laboratory staff
There are some additional updates to the system which help laboratory staff to:
identify records more easily when there has been a problem with the file upload
more easily identify when there is a date of birth error which could affect NBS screening
Coming soon
An automated system for logging calls with the NBSFS helpdesk will be coming soon.
The new customer portal will give people an extra option to log a query with the helpdesk, in addition to using email and phone.
We will let you know the date for the introduction of the new portal via the new NBSFS messaging system.
Help us to keep improving
We are very grateful to everyone who has helped with developing and testing these updates.
We do keep growing our bank of NBSFS users, so if you think you could help please get in touch via the NBSFS helpdesk.
For further information about NBSFS, keep an eye out for future blogs or get in touch with the NBS programme.
PHE Screening blogs
PHE Screening blogs provide up to date news from all NHS screening programmes. You can register to receive updates direct to your inbox, so there's no need to keep checking for new blogs. If you have any questions about this blog article, or about population screening in England, please contact the PHE screening helpdesk.