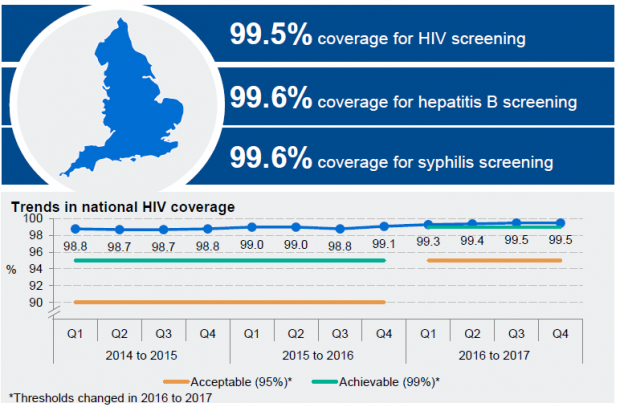 We've just published the 1 April 2016 to 31 March 2017 infectious diseases in pregnancy screening (IDPS) programme standards report. This year is special because it is the first in which IDPS standards have been collected.
PHE Screening recognises the hard work of all providers in submitting the data and would like to say a big thank you to everyone who took part.
The IDPS programme offers and recommends pregnant women in England screening for:
Early identification means pregnant women can be offered treatment at an earlier stage which significantly reduces the risk of passing the infection to their babies.
What the report shows
The new report provides information about how well the programme has been performing against national standards in the period 1 April 2016 to 31 March 2017.
The report includes analysis of:
coverage
positivity rates
test turnaround times
times to intervention
Main findings
The report shows that between 1 April 2016 and 31 March 2017 in England:
screening coverage for all 3 infections was over 99%
more than 98% of results were reported to maternity services within 8 working days of samples being received by the laboratory
The proportion of pregnant women with hepatitis B who attended specialist assessment within 6 weeks of the positive result was 80.3% in England, which meets the acceptable threshold of 70%.
This result has improved every year due to the continued work between screening teams and hepatology service providers.
Variations in reporting data
As expected with a new process of reporting, there was some variation across England in data quality and completeness of data returns.
Since the data was collected we have been holding antenatal data workshops for providers across the country and noticed the positive effect this has had in improving the quality of data submissions.
Looking forward
The latest set of data, for 1 April 2017 to 31 March 2018, is currently under analysis and will be out in the coming months.
The IDPS programme and national screening data and quality assurance leads will continue to work together to review data trends and support providers to keep improving the programme.
PHE Screening blogs
PHE Screening blogs provide up to date news from all NHS screening programmes. You can register to receive updates direct to your inbox, so there's no need to keep checking for new blogs. If you have any questions about this blog article, or about population screening in England, please contact the PHE screening helpdesk.