The newborn blood spot failsafe solution (NBSFS) is a quick and easy way of identifying babies who may have missed NBS screening. All NBS laboratories and maternity units in England use it and we are introducing some changes on 4 October 2017 to make it even more user friendly. These changes include:
links to useful newborn blood spot information from the tracking page
fewer clicks to update your 'user profile' - this will help everyone keep their profile up to date
improvements to the way the system displays mother and baby addresses
clear display of the NBS laboratory that tested the most recent blood spot card in the  'national search' and 'notes' sections
renaming 'Out of area' status to 'Out of England' - with a change to the process to make sure mistakes are not made
a confidential identifier for every baby record which you can use instead of the NHS number if you need to communicate with the helpdesk using a non-secure email
NBS screening laboratories will find lots of improvements. In particular, making the 'manual validation' process quicker, easier and more efficient.
You will be relieved to know that improvements are being made to speed up the running of the NBSFS.
Do you know about the NBSFS portal? You can use this to contact the helpdesk using the confidential identifier for the baby and track your queries.
Have you used the record query form (RQF)? Our recent user survey showed that if you use the RQF the query is usually resolved faster. The RQF is in our new user guide.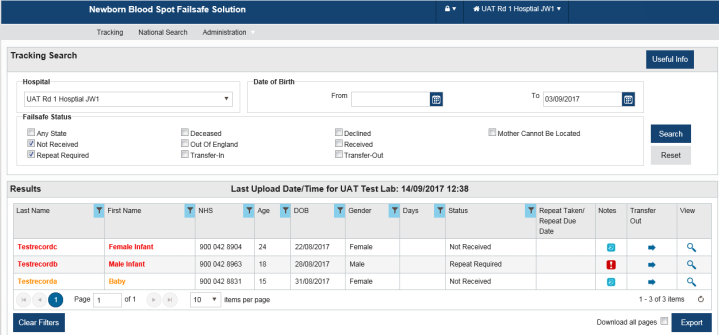 NBSFS: User guide
We're working on a brand new user guide to help you understand all the NBSFS changes. As with all publications we create for you, the guide is going through the publication and review process before we put it on GOV.UK.
The user guide will bring together all the NBSFS information and documents you need in one place. This includes:
background to how the NBSFS works
a troubleshooting guide
a training guide
new 'user access' forms
a quick reference guide which includes details about the new changes
a record query form (RQF) - updated in response to a recent user survey
operational level agreements (OLA) which describe how stakeholders should use the NBSFS
a list of NBSFS sites and a map to help with record transfers
a NBSFS feedback form
useful contacts, resources and links
You'll definitely want to check out the user guide if you have:
new users - look at the training guide and download the new access form from the user guide
a record query - use the new RQF which you send to the NBS laboratory or the NBSFS helpdesk
Keep your eyes on the newborn blood spot screening content on GOV.UK for the user guide.
Contact us
To find out about and get set up to use the NBSFS portal to raise and track helpdesk queries contact the NBSFS helpdesk by:
If you have any futher questions please contact me, Julie Wilcox (NBSFS Project Lead), by e-mail: julie.wilcox2@nhs.net