Blood spot sample takers: have you ever wondered why sample quality is so important?
The simple answer is that a poor quality sample could mean that a baby with a serious condition is missed.
Newborn blood spot screening identifies babies at increased risk of having one of 9 rare but serious conditions. They can then be seen and treated early if needed. The treatment can be life-saving for some of these babies.
New e-learning
We've launched a new e-learning module on blood spot samples that explains what could happen if a baby has a poor quality sample. For example, if the sample did not have the correct amount of blood, was contaminated or taken at the wrong time.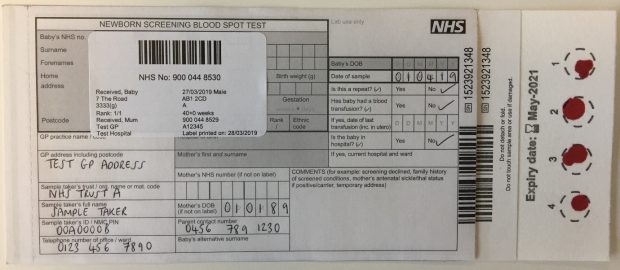 The new e-learning takes you on a sample-taking journey, giving practical tips on what to do before, during and after taking a sample.
An animation explains (in a non-technical way) how the laboratory looks at blood spot samples as 3-dimensional objects to make sure they contain the right amount of blood.
There are also illustrations of different types of poor quality samples, including some real images from a laboratory to download and keep as a resource.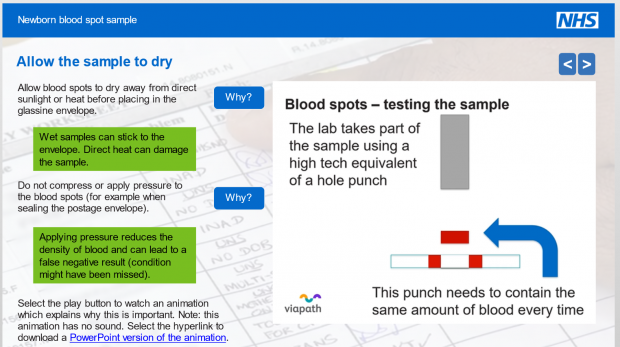 We've included videos from previous e-learning in which:
a midwife describes how she improved her practice
we take a look at what happens when samples reach the laboratory
There are reminders throughout of where to go for further information, including e-learning modules on the new blood spot card and the 9 conditions.
Feedback welcome
A huge thanks to the e-Learning for Healthcare team at Health Education England for helping us to develop this new module – they had great ideas and really helped to bring it to life.
We'd welcome any feedback on the new e-learning, so please do take a moment to complete the survey at the end if you get a chance.
PHE Screening blogs
PHE Screening blogs provide up to date news from all NHS screening programmes. You can register to receive updates direct to your inbox, so there's no need to keep checking for new blogs. If you have any questions about this blog article, or about population screening in England, please contact the PHE screening helpdesk.