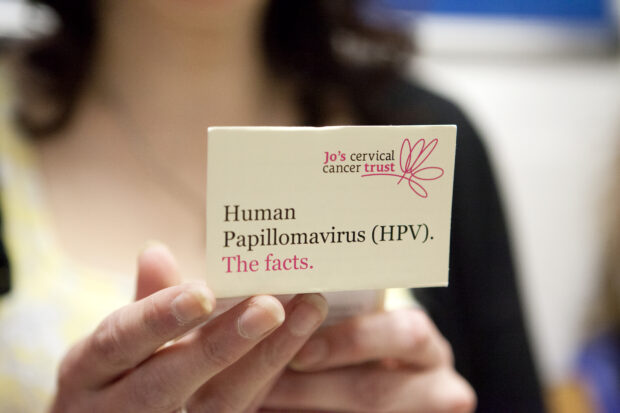 This is a very important time to focus on raising awareness of human papillomavirus (HPV) with the upcoming roll-out of HPV primary screening.
This is a new way of examining cervical screening (smear) samples, where the check for HPV is the first test carried out.
Primary HPV screening will be rolled out across the NHS Cervical Screening Programme in England by the end of 2019.
This new method of testing is a better way of identifying those at higher risk of cervical cancer, which we at Jo's Cervical Cancer Trust are welcoming. However, it will undoubtedly raise questions as significantly greater numbers of people will be told that they have HPV.
Good to talk
We have been very pleased to see many different organisations talking about HPV recently.
In March 2019, International HPV Day firmly put it on peoples' radars, but also highlighted that many people have concerns and questions about the virus.
This is the time to work as hard as we can to set peoples' minds at ease, so that the new method of screening has the chance to fulfil its exciting potential.
HPV stigma
I recently presented some research carried out by Jo's Cervical Cancer Trust at Cancer Research UK's annual conference on early diagnosis. It gave a stark insight into the knowledge and understanding that women have about HPV, revealing several widespread myths and misconceptions about the virus.
Over 80% of people will come into contact with HPV at some point in their lives. It's usually completely undetectable and has no symptoms. Most of us will clear it from our bodies without ever having known it was there.
So, why is there still such stigma around it?
Sadly, there's every chance that myths about HPV deter people from going to cervical screening, which we cannot afford when attendance is at an all-time low.
Working to dispel stigma
Our research showed that only 1 in 7 women think that HPV is a common virus. This could be contributing to misinformation about who is eligible for cervical screening and who is it important for.
So it's hardly surprising that unhelpful stigmas are perpetuated.
We speak to many women who have been through the trauma of cervical cancer and speak out about HPV to raise awareness of its significance. Many are met with judgemental comments, presuming things about their lifestyle that are neither relevant nor true, proving that there are incorrect ideas out there about how HPV is passed on, which we must work to dispel.
Some facts about HPV
While it's possible for HPV to be passed on from the very first time you have sexual contact, it's widely thought that only promiscuous people get the virus, but this is not true. Our research found that 2 out of 5 women would be worried what people thought of them if they were told they had HPV.
We also found that 95% of people did not know that HPV can be passed on through protected vaginal sex. On top of this, one third of women did not know that HPV causes cervical cancer.
And we are seeing increasing numbers of calls around HPV to our helpline, often from anxious people concerned that their partner been unfaithful, putting strains on their relationship. And many are not aware that HPV can remain dormant for many years.
It's clear that this combination of factors might put people off attending a test that detects HPV.
HPV Primary Screening
HPV testing is truly an exciting prospect that will prevent around 500 cancers a year – that's incredible!
It's absolutely vital that we ensure that the facts about HPV are out there, so we are able to harness the full potential of this innovation.
We must arm ourselves with information in order to tackle stigma so that patients feel able to speak about the virus without shame or embarrassment. Increased education is vital to normalise HPV.
A wide-ranging approach is needed via general public awareness campaigns and improved training among health professionals who will be having many more discussions with patients who have questions in the near future.
If we are able to give reliable, easily understandable information, we can make HPV testing a great success.
HPV vaccine
All girls can get the HPV vaccine free from the NHS from the age of 12 up to their 18th birthday.
Although the vaccine protects against at least two high-risk types of HPV that cause about 7 out of 10 cases of cervical cancer, it does not protect against other high-risk types of HPV.
This means that even if women have been vaccinated, it is still appropriate for them to attend for cervical screening.
More to come
This is the second of 3 planned blogs by Rob Music, chief executive of Jo's Cervical Cancer Trust.
Please keep an eye out for the final post in this series soon about Cervical Screening Awareness Week in June 2019.
PHE Screening blogs
PHE Screening blogs provide up to date news from all NHS screening programmes. You can register to receive updates direct to your inbox, so there's no need to keep checking for new blogs. If you have any questions about this blog article, or about population screening in England, please contact the PHE screening helpdesk.