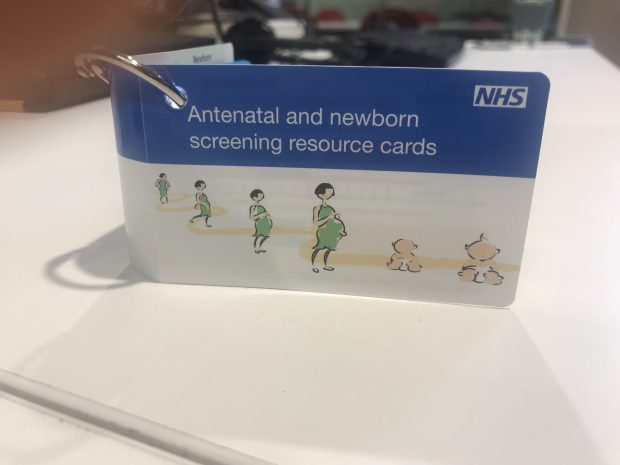 Ever opened a present to find a replacement for a much cherished item of clothing or comfy pair of slippers? Sometimes it is harder than you think to give up the thing you're comfortable with.
This is the situation some midwives and other screening professionals are in at the moment with our collection of credit card sized plastic resource cards giving information about screening offered in pregnancy and to newborn babies.
These cards contain helpful facts about all the NHS antenatal and newborn screening programmes and were designed to support midwives in their conversations about screening with women and their families.
However, the time has now come to change the format of these handy little cards and switch to electronic versions. The resource cards are not environmentally friendly, are expensive to produce and distribute and cannot be updated easily.
The new format will provide you with free to access, up-to-date information containing graphics and links which you can use with women and families or for your own learning.
Just like when you come to replace your comfy old slippers, we are confident your familiar old resource cards are being replaced by something even better.
Making sure we listened
Following an online survey earlier this year, we  invited community, hospital and screening midwives, plus maternity support workers, to a focus group in Leeds in June 2018.
Our aim was to explore the best options to replace the cards. During the day we asked attendees:
how they use the resource cards at the moment, who uses them, and in what context
to let us know which resource cards are most useful
how easy they would find it to use new electronic versions
which other screening stakeholders could benefit from electronic versions
We presented 2 options for how the electronic resource cards could look. They were:
an interactive webpage
an interactive PowerPoint resource to download
Interestingly, both options were assessed as being similar in terms of usefulness and accessibility. Some felt the web-based page might be easier to use and download.
What we are doing next
We will be using the feedback to refine the content of the new online versions of the cards and continue to develop the PowerPoint version.
We expect the new resource to be ready in autumn 2018 and will let midwives and universities know when they are. It's also worth keeping an eye on our screening blog for updates.
PHE Screening blogs
PHE Screening blogs provide up to date news from all NHS screening programmes. You can register to receive updates direct to your inbox, so there's no need to keep checking for new blogs.