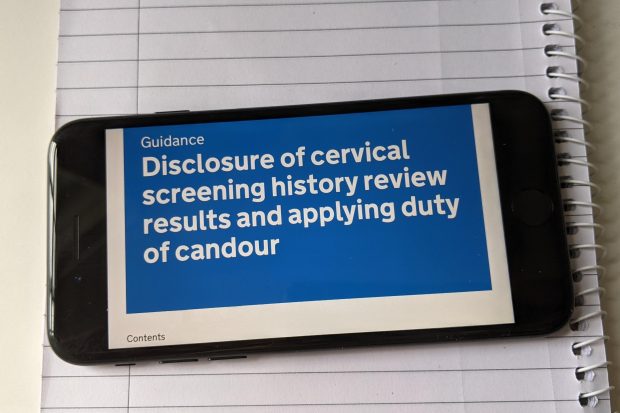 Audits in the NHS cancer screening programmes are used to monitor the quality and effectiveness of the programme and identify areas of good practice and areas for improvement.
The NHS cervical screening programme (CSP) aims to reduce cases of, and deaths from, cervical cancer. Unfortunately, despite the effectiveness of the programme, some people still develop cervical cancer.
An audit of cervical screening histories may help to identify why a cancer has occurred, despite the individual having previously had cervical screening.
All individuals diagnosed with cervical cancer should be offered the results of the review of their screening history unless:
they have no previous screening history
their most recent history is more than 10 years before diagnosis
National guidance
We have now published the cervical screening disclosure of audit results toolkit.
This national guidance advises health professionals working in the NHS CSP on how to communicate the results of invasive cancer audit reviews to individuals who have previously had cervical screening. It includes:
pathways to follow to complete the audit process and offer disclosure in a timely manner
information about the responsibilities of individuals and organisations involved in the audit and disclosure process, including checklists for cervical screening provider leads (CSPLs) and disclosing clinicians
guidance and decision pathways for classifying the cytology and histology slide reviews
guidance on assessing the classification for colposcopy management
guidance on when to apply duty of candour
a digital information leaflet for individuals about disclosure of audit and duty of candour
information on best practice when undertaking disclosure of audit results meetings
Health professionals can download and print the patient information leaflet to give to individuals who have been diagnosed with cervical cancer, together with a response form for them to indicate if they wish to receive the results of their review.
e-Learning module
We have developed a short e-learning module to support the disclosure of audit and duty of candour requirement. All clinicians who undertake disclosure discussions must complete this module.
The module includes:
a video that highlights best practice when communicating the results of the invasive cervical cancer audit
multiple choice self-assessment slides to test understanding
a link to the disclosure of audit result toolkit and cervical screening audit guidance
A certificate is available on successful completion of the module.
PHE Screening blog
The PHE Screening blog provides up to date news from all NHS screening programmes. You can register to receive updates direct to your inbox, so there's no need to keep checking for new blogs. If you have any questions about this blog article, or about population screening in England, please contact the PHE screening helpdesk.