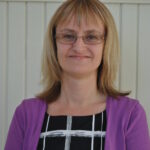 Philippa Pearmain
Head of screening quality assurance, Screening Quality Assurance Service (Midlands & East) Public Health England
PHE has published guidance describing the role and responsibilities of cervical screening provider leads.
For the first time ever, we're publishing detailed cervical screening coverage data by GP practice.  Coverage is the proportion of women eligible for screening who have a test result recorded in the last 3 or 5 years, depending on their age.
The breast, bowel and cervical screening programmes require consultant pathologists and other specialist laboratory staff to take part in 'external quality assessment' or EQA. But what is EQA exactly?