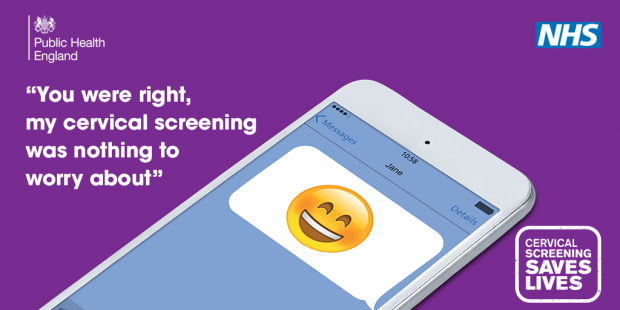 In March 2019, Public Health England launched the first ever national cervical screening campaign, Cervical Screening Saves Lives.
Deciding whether to be screened is always a personal choice, and the aim of the campaign was to raise awareness of the risks of cervical cancer and highlight the preventative benefits of screening to improve attendance across England.
Background
Figures published by NHS Digital showed that, at 31 March 2018, the percentage of eligible women aged 25 to 64 screened was 71.4%. This compared to the national target of 80%.
Coverage had reached a 20-year low, with 1 in 4 women in the UK not attending their test.
While some of these women will have made an informed choice to decline screening, pre-campaign research with the target audience showed that for many, non-attendance was due to:
lack of knowledge of the risks of cervical cancer
poor understanding of the benefits of screening
Working with the PHE Screening team, academics, clinicians and charities, PHE Marketing reviewed data about coverage and barriers to attendance. They carried out research with the target audience to better understand these barriers and how best to address them.
The campaign, supported by NHS England, was relevant to all women of screening age (25 to 64). However, it focused on groups where attendance is lowest or where there is higher risk of cervical abnormalities. These groups included:
younger women, aged 25 to 34
south Asian and black women
lesbian and bisexual women
women from lower socio-economic groups
By providing practical information about how to make the test more comfortable and giving reassurance to women that screening is not a test for cancer, the campaign encouraged women to respond to their screening invitation letters, and if they had missed previous invitations, to book an appointment at their GP practice.
Innovative ways to get the message across
The campaign used several channels including:
TV
video on demand
washroom posters
media partnerships
social media
other digital channels
national and regional public relations activity
an innovative Life Saving Wax partnership with 500 Treatwell hair and beauty salons
With an evaluation under way, now is a good time to share some of the highlights from the campaign, along with some early signs of its impact.
Results from surveys
Initial results from the surveys with women were positive, indicating that:
women's knowledge of cervical screening increased from 53% to 56% following the campaign
younger women and south Asian and black women are now much more likely to agree that it's important to attend all screenings (younger women increased from 87% to 92% agreement and south Asian and black women increased from 84% to 90%)
all the main target groups were significantly more likely to say that the campaign has made them more likely to attend their next screening
Screening data
We also looked for evidence the campaign encouraged more women to take up their invitation to be screened.
In doing this, we checked if attendance patterns in the early part of this year were different to the same period last year.
Initial results

Screening sample numbers for early 2018 peaked in February and then began to reduce until they levelled out over the summer.
Early 2019 showed the same pattern as the year before up until February. However, unlike the previous year, sample numbers continued to rise in March, when the campaign began. You can see this clearly in the March column of the above graph.
Screening sample numbers also remained well above the 2018 levels during April and May 2019.
Looking at the figures up close
Looking at the data in more detail shows there were just over 86,000 more screening samples during the campaign period than in the same period the year before.
At their peak, in March 2019, samples were 18% higher than in March 2018.
Greater sample activity continued into May 2019 when there were 24,000 more samples than in May 2018.
Overall, 100,000 more samples were recorded over the 3-month period of March to May 2019 than the same period the year before.
While this is not conclusive evidence of campaign impact and further analysis will take place, this very early data is encouraging.
Showing the change as a percentage
The graph below shows the percentage change for each month from January to June 2019 compared to January to June 2018. This reinforces the findings in the previous graph and makes it easier to see the possible effects of the campaign.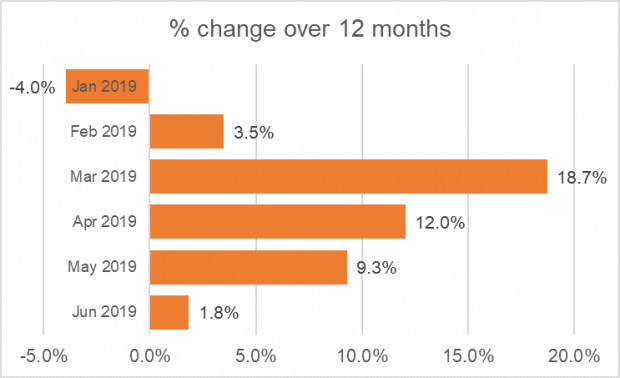 Collaborative working
The 'Cervical Screening Saves Lives' campaign is the first national campaign for the cervical screening programme.
It was great to see the commitment, interest and collaborations at a local, regional and national level, as well as across the public, private and voluntary sectors.
Further evaluation will be done as the screening data becomes available over the next year or so. We will publish this as we can.
For now, it's great to be able to share the encouraging initial findings.
PHE Screening blogs
PHE Screening blogs provide up to date news from all NHS screening programmes. You can register to receive updates direct to your inbox, so there's no need to keep checking for new blogs. If you have any questions about this blog article, or about population screening in England, please contact the PHE screening helpdesk.