The breast, bowel and cervical screening programmes require consultant pathologists and other specialist laboratory staff to take part in 'external quality assessment' or EQA. But what is EQA exactly?
I'm National Portfolio Lead for Cervical Screening. This means I have responsibility for representing cervical screening within the Screening Quality Assurance Service (SQAS). I thought it would be useful to explain how EQA works in the cervical screening programme.
EQA is a way of assessing how well the tests in a laboratory are carried out. The assessments are done outside of the laboratory in which people work, so are fair and objective. That's why it is called 'external'. It is important that an EQA is well run and gives the correct results, so we have lots of checks in place to do this.
PHE Screening runs 2 EQA schemes for cervical screening: a cervical screening EQA and a technical EQA scheme (TEQA).
Day to day organisation of the cervical screening schemes is run nationally by a small EQA team in Birmingham with support from colleagues in Liverpool and Sheffield. We have a steering group and input from a senior consultant pathologist, who is the professional EQA scheme organiser.
The UK Accreditation Service (UKAS) has accredited the cervical scheme to International Organisation for Standardisation (ISO) standards and we hope that the TEQA scheme will also achieve accreditation later this this year. This helps us show that we work to the highest standards and are always looking to improve.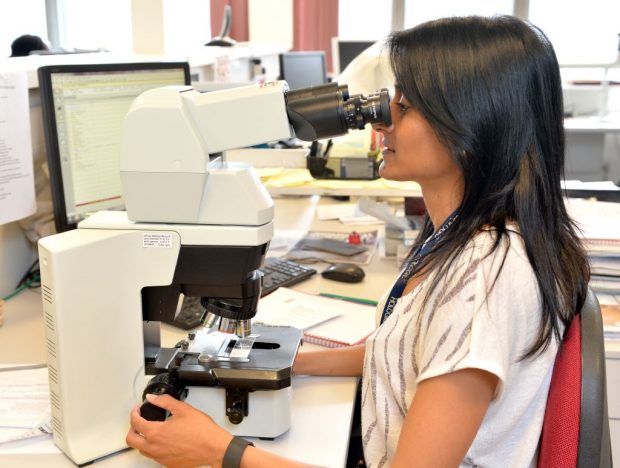 Cervical screening EQA
Cervical screening EQA involves giving individual specialist cytology staff feedback on how well they screen 10 cervical screening slides. It takes place twice a year and involves:
63 laboratories
1,119 laboratory staff
collation of around 1,600 anonymised cervical screening samples from which the EQA sets are compiled
Sometimes an individual doesn't do as well at EQA as their colleagues, so there is a system in place to help them.
Technical EQA scheme
We launched an updated national technical EQA scheme for laboratories in October 2016.
This scheme assesses the quality of the preparation of cervical screening samples and the staining used to highlight cells so that the specialist laboratory staff can see them properly. If the preparation and staining of samples is poor, it makes it more difficult to pick out abnormal cells.
It involves:
58 laboratories
140 pieces of equipment
24 specially trained assessors
Laboratories get feedback on the quality of their preparation and staining so that they can make the necessary improvements.
Both EQA schemes are supporting the cervical screening programme in achieving high quality screening. We look forward to continuing to work with all the staff involved to improve them further. We are also delighted to have been recognised for outstanding achievement in the 2017 PHE Quality Awards.
PHE Screening blog
PHE Screening BLOG articles provide up to date news from all NHS screening programmes – replacing our previously published newsletters.
You can register to receive updates direct to your inbox, so there's no need to keep checking for new blog articles.